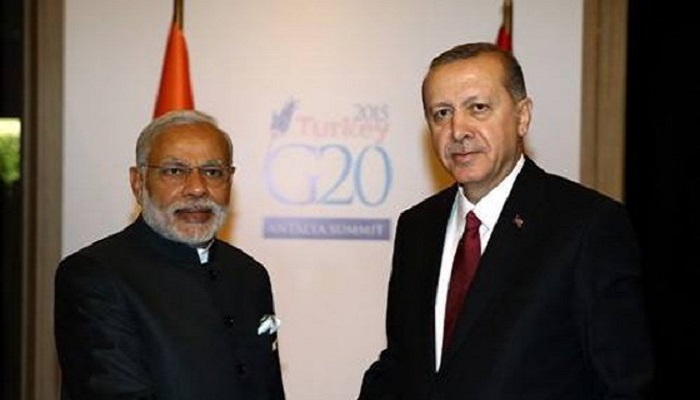 Turkish President Tayyip Erdogan arrived India on a two-day visit. He was received here by Indian President Pranab Mukherjee. Erdogan was scheduled to meet Vice President Hamid Ansari shortly after his arrival, to discuss a range of subjects concerning both the nations. His meeting with Indian Prime Minister Narendra Modi is scheduled tomorrow at the Hyderabad House in the national capital.
Erdogan's visit to India is his second. In 2008, he had visited New Delhi as the Prime Minister of Turkey. The bilateral ties between New Delhi and Ankara received a push back in 2003, when the then India PM Atal Bihari Vajpayee became the first Indian PM to visit Turkey after 1988.
The bilateral meet between Erdogan and Modi would be centered primarily around the issues involving bilateral trade, New Delhi's bid to be part of Nuclear Suppliers' Group (NSG) and the crackdown demanded by Turkey against the institutions linked to Fethullah Gulen Terrorist Organisation (FETO) operating in India.