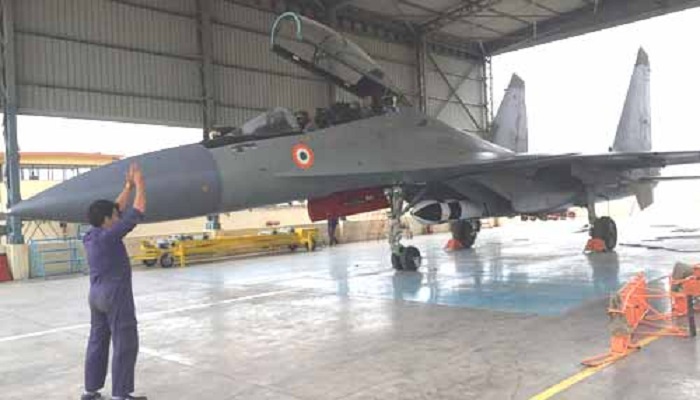 BrahMos Aerospace Limited is finally getting ready to conduct the maiden test of BrahMos supersonic cruise missile's air version soon. This world class weapon system, which can surprise enemies with its maneuvering capability, will be fired from an aircraft in June.
Defense sources said the integration of the weapon with Su-30MKI fighter aircraft is near complete. After a couple of drop tests, it will be fired against a live target.
"Sukhoi has successfully demonstrated its integration with the missile. If everything goes according to the plan, the missile will be launched from the aircraft in June. Two aircraft have been earmarked by the air force for the initial trials," said a BrahMos Aerospace official.
If test-fired successfully, BrahMos will be first weapon system in the world to have such capability. As of now, there is no such weapon available in the world which can be fired from land, sea and air platforms. The Navy had recently conducted a test of the missile's land attack variant after its range was extended from 290 km to 450 km following India's membership in the Missile Technology Control Regime (MTCR).
Jointly developed by India and Russia, the 8.4-meter BrahMos missile, fastest in the world, can carry warheads up to 300 kg. Having devastating power at a supersonic speed of Mach 2.8, it is capable of delivering warhead with high precision.
Defense sources said the BrahMos Aerospace has reduced the weight of the air version of the missile as it will be launched from a moving platform unlike its land and sea versions. Some modifications have also been made in its design to easily integrate with Sukhoi aircraft.
"Hindustan Aeronautics Ltd (HAL) has also made some structural changes to Sukhoi for the finest integration of the missile. The design changes have been validated through various tests including most important ground vibration test," the official added.
Equipped with an inertial navigation system and global positioning system, the missile can effectively engage ground targets from an altitude as low as 10 meters for surgical strikes at terror training camps across the border without causing collateral damage.
BrahMos is the only supersonic cruise missile-possessing this advanced capability in the world providing an edge to the user with a precise hit. The Army and Navy have already inducted the missile system.