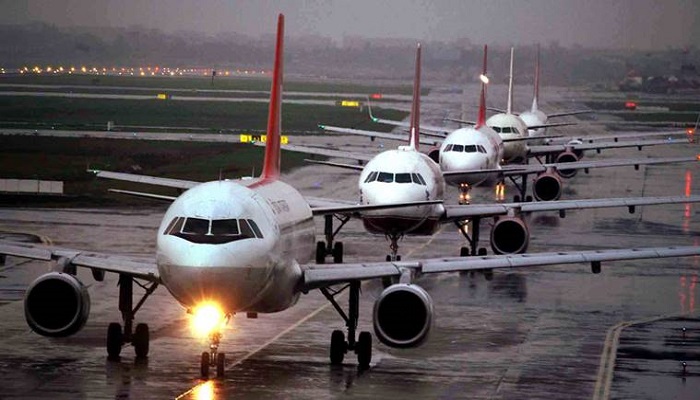 Passengers flying on Indian carriers to Qatar will face increased travel hours as airlines have been forced to take longer routes over Pakistan and Iran, amid airspace curbs in the Gulf region.
Jet Airways, Air India Express and IndiGo are now operating flights to Qatar's capital Doha through Pakistan and Iran airspace following restrictions imposed by the UAE.
Apart from longer flying hours, the airlines would see a spike in costs for operating these flights due to higher fuel burn and the need for having additional human resources.
In a major diplomatic face-off in the Gulf region, Saudi Arabia and various other countries have severed their ties with Qatar, accusing the latter of extending support to extremists.
The development has impacted flight operations in the region with airspace restrictions in place and the UAE imposing curbs on flights to and from Doha using its airspace.
As per official data, little over 28 lakh passengers flew to and from Indian cities and Doha in 2016.
Air India Express CEO K Shyam Sundar said its flights to Doha have started taking the alternative route following restrictions in the UAE airspace.
"The duration of our flights to Doha will increase by an hour and a half or so in either direction. We will have to avoid the UAE airspace and fly over Pakistan and Iran instead," Sundar told.
An Air India Express flight takes nearly three hours and 30 minutes to complete Mumbai-Doha flight while the duration is around four hours for the flight between Kozhikode and Doha.
Air India Express, part of Air India group, has 14 flights from Kozhikode, Mangalore and Mumbai.
A spokesperson for IndiGo — which operates a flight each from Delhi and Mumbai to Doha — said it is now operating through Pakistan and Iran airspace.
"We have tactically altered our routes from today pending future course of action by UAE… Flights originating from Mumbai will be extended by 30-40 minutes and from southern cities it will be even more. Flights from Mumbai will now have to fly over Karachi (Pakistan), Bandar Abbas (Iran) to Doha," the spokesperson noted.
The airline also plans to introduce flights to Doha from Chennai and Kozhikode.
A Jet Airways spokesperson said all its scheduled flights to and from Doha would operate on the alternative northern route via Iran avoiding the UAE airspace.
"The flights will see additional flying time of about 10 -40 minutes and the airline intends to augment the number of its crew members on the Doha flights for the additional flying time," he said.
He also said the airline is continuing to work with the UAE authorities to seek permissions for overflying the UAE airspace.
"We continue to serve our guests with six flights between various Indian cities and Doha," he said, adding that steps are being taken to maintain its network integrity, minimise inconvenience and ensure safety of guests.
Jet Airways, whose strategic partner is UAE-based Etihad Airways, operates flights from Delhi, Kochi, Kozhikode, Mumbai and Thiruvananthpuram.
A longer flight also means an increase in operational costs as planes burn more fuel.
For the time being, Sundar said Air India Express is not thinking of revising fares for the Doha flights.
"Not at this time. Cost of operations is going to increase but fares will be determined by how the markets react. If it (diplomatic tension) is a short-term thing then we will take it as it is without any revision," Sundar said.
Air India Express flights to Doha would now have a layover at Doha to adhere to Flight and Duty Time Limitations (FDTL) for pilots and crew. This would also result in higher expenses such as for hotel accommodation for the airline crew.
On the flip side, industry insiders hope that the ongoing crisis in the Gulf region could result in benefits for Indian carriers.