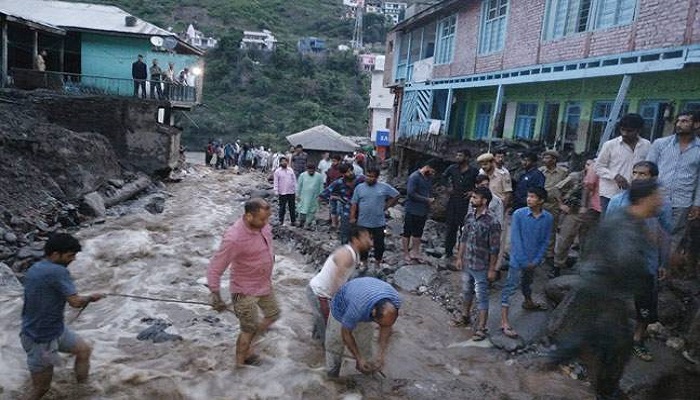 Eight people, including four children and four women, were killed and several other residents went missing as flash floods triggered by cloudburst wreaked havoc in parts of eastern Doda and Kishtwar districts of Jammu and Kashmir early Thursday.
Eight people including five members of a family, a 12-year-old boy were, however, rescued.
Three women killed in Thathri area of Doda have been identified as 35-year-old Neeru Devi, Patna Devi, 45, and teenager Sareshta Devi. Half a dozen residential houses, shops, a school and several vehicles were damaged as the deadly cloudburst brought massive damage top life and property, the officials said. Also, the resultant flashfloods inundated vast areas along Batote-Doda-Kishtwar highway.
Officials said that the water level and silt suddenly rose in Masjid Nullah after the cloudburst around 2:20 am and washed away several structures on both sides of the stream within no time.
A police official Iftkhar Ahmed was quoted by local media as saying that the police and the civilian authorities are trying to rescue the people still trapped under the debris.
"As of now, three female bodies have been recovered from the debris. However several others are still under the debris and more casualties cannot be ruled out," he said.
The eight people rescued earlier are being treated at an emergency hospital at Thathri, the officials said.
The witnesses said the missing people are believed to have been buried under the layers of mud, silt and stones striven all over in the affected area.
The police and the Army have stepped up rescue operation and being helped by local volunteers.
The Batote-Doda-Kishtwar road connecting the hilly region with the Srinagar-Jammu highway has been closed for the vehicular traffic. The power supplied to the area remains suspended, reports received here said.
A report from neighbouring Kishtwar said a woman identified as 50-year-old Kunji Devi and her five-year-old grandson were washed away in flash floods triggered by a cloudburst in Kishtwar's Chichi area on Thursday.
The officials said the victims were grazing cattle in Chichi's Hydal Mill meadow when the cloudburst struck the area. The body of the woman has been retrieved where the effort to get that of her grandson was on when reports last came in.