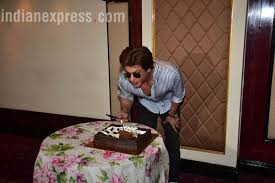 Maharashtra MLC Jayant Patil venting out his anger at SRK in Alibaug where the actor went to celebrate his 52nd birthday.
The MLC is heard shouting in Marathi at the actor who was sitting on his yacht, "You may be a superstar but that doesn't mean you have own the entire Alibaug."
On November 2, Shah Rukh was in Alibaug to ring in his birthday with close friends and family including Alia Bhatt, Katrina Kaif, his wife Gauri Khan, daughter Suhana and little one AbRam. As per reports, while he boarded his yacht, at the same time Patil came on the spot as he too had to board his yacht to his home in Raigad, Colaba.
But since Shah Rukh was present at the spot, a huge crowd gathered on the shore to catch a glimpse of their favourite star and it got difficult for Patil to reach his yacht. This further aggravated the situation and on reaching the yacht the MLC yelled at the actor for not getting out and creating trouble for him.