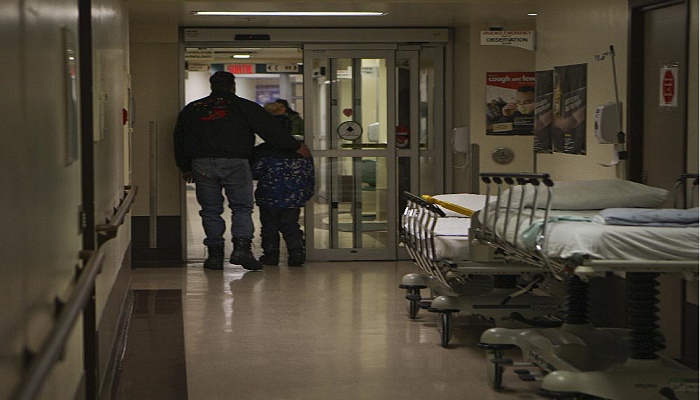 Patients too poor to settle medical debts are chained to drainpipes, starved and abused in health centers across parts of Africa and Asia.
Hospitals are detaining hundreds of thousands of people against their will every year – many of them mothers and their newborn babies – simply because they are too poor to pay their medical bills, a study has found.
patients chained to drainpipes, starved and abused, and forced to perform sexual acts in exchange for cash to pay off their bills.
Campaigners are calling on the global health community to take immediate action against medical detentions ahead of a high-level forum in Tokyo on universal healthcare, which begins on Tuesday. The UN, World Health Organization, and World Bank will meet world leaders to discuss ways to improve healthcare for all by 2030.
"This is a systemic problem, and the number of rights abuses is quite profound: people are being detained without trial, they're being locked up with security guards, and women are giving birth to babies who are entering the world, in effect, as prisoners," said Robert Yates, project director at the Centre on Global Health Security
"Healthcare user fees are at the root of the problem, and this just shows how bad a privately financed health system can get. We need to do more research on this and the global health community needs to start taking this seriously."
While exact numbers of medical detentions are unknown, in some countries the practice is so common that patients consider it "normal" for hospitals to detain those who cannot pay their bills.
Those most at risk of being detained are the poorest people, among them those needing emergency treatment and pregnant women, with many of them resorting to desperate tactics in order to escape detention.
Over a six-week period in 2016 in one health facility in the Democratic Republic of the Congo, 54% of women who had given birth and were eligible for discharge were detained for nonpayment of user fees.
"Healthcare really needs to be free of charge to the patient, because this is the consequence of making patients pay, and it is the worst situation in a whole range of very difficult situations: they may get the medical care they need but then they, or their belongings or their ID papers, are kept, hostage," said Dr Mit Philips, health policy advisor at Médecins sans Frontières.
"Unfortunately, because many of these health facilities don't receive sufficient funding to provide adequate care even when patients can afford to pay, this is the kind of economic logic that results. If we're serious about universal health coverage, then abolishing user fees would be a good place to start" he added
Campaigners have called for national leaders to ban medical detentions and prosecute the hospitals that imprison their patients and forced to perform sexual acts in exchange for cash to pay off their bills.