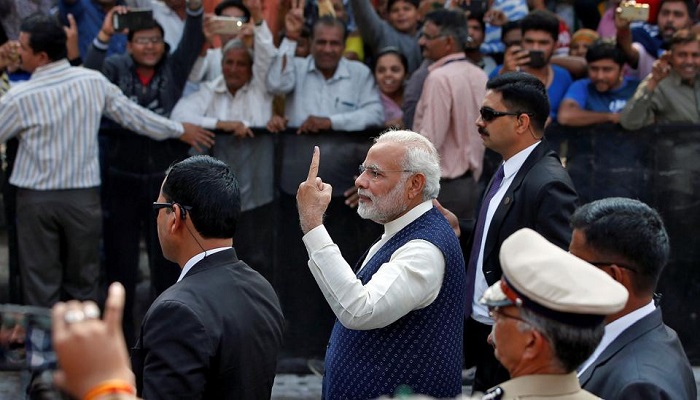 The final phase of the Gujarat elections had begun today and PM Modi has cast his vote and showed it to the people. But the Congress slams this 'show'.
Prime Minister Narendra Modi on Friday cast his vote in Gujarat for assembly elections in his home state. He reached the polling booth at Ranip amid huge applause from a flood of people standing in line waiting for Modi to arrive.
As soon as he reached the booth, he touched his elder brother's feet and stood in the queue waiting for his turn to cast the vote. After he came out, he showed his inked finger to cameras and people alike. His voting looked nothing less than a mini-roadshow with people cheering and applauding the Prime Minister.
Witnessing the pomp and show, the Congress has knocked the door of the Election Commission calling it a violation of the model of conduct. The Congress has accused Modi of holding a roadshow to influence the voters in the state.
"Election Commission has become a puppet and constitutional norms are being violated. What is the reason that Amit Shah addressed the press meet at a public place like Ahmedabad airport, yet the Election Commission did not say anything? We demand that if EC has any shame for their position and Constitution, they need to act," Randeep Surjewala alleged adding that the poll panel has become a frontal organization of the BJP.
"EC has given up on all of its Constitutional responsibility and became a BJP puppet," Surjewala said in an unprecedented attack on the poll panel. Attacking Prime Minister Narendra Modi, Surjewala said, "Modi's actions show he wants to break all democratic values to remain in power in the state.  Surjewala also attacked the PM Modi on his allegation that the rising NPA  was the biggest scam done by Congress-led UPA government.
"We would like to tell Modiji that roadshows and seaplanes won't change the Gujarat verdict," he added.
Recalling Modi's speech at the FICCI on Thursday, he said that the PM used FICCI for political purposes and alleged that the EC never did anything.
However, the BJP is claiming that it was not an organized event but people had gathered there due to the curiosity that people had in Modi.
Modi giving the vote in Gujarat brings back memories of the 2014 Lok Sabha elections when he took a selfie with the BJP symbol after casting his vote and even gave a speech at the poll booth. Taking cognizance of the matter, the Election Commission had then filed an FIR against Modi.