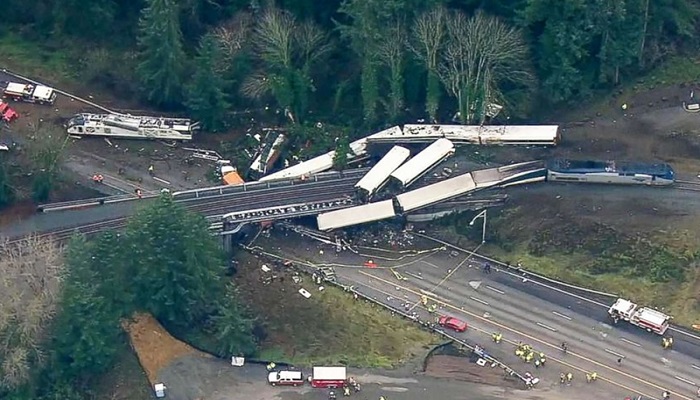 At least six people were killed after an Amtrak train derailed and fell off a bridge in the southwest of Seattle on Monday.
According to the Guardian, the death toll is expected to rise as several others were injured in the accident.
The train fell over Interstate 5 near Mounts Road between Lakewood and Olympia.
United States President Donald Trump took to Twitter to pay his condolences to the victims and their families.
"Our deepest sympathies and most heartfelt prayers are with the victims of the train derailment in Washington State. We are closely monitoring the situation and coordinating with local authorities…," President Trump tweeted.
President Trump also thanked the first responders, who reached the spot and helped those got caught in the train crash and said the White House is monitoring the situation.
"My thoughts and prayers are with everyone involved in the train accident in DuPont, Washington. Thank you to all of our wonderful First Responders who are on the scene. We are currently monitoring here at the White House," he tweeted.
The southbound lanes of Interstate 5 were completely blocked by the train and motorists were being warned to avoid the area.
Pierce County Sheriff's spokesman Ed Troyer was quoted as saying that there were fatalities on the train and that motorists had been injured.
There were roughly 78 passengers and five crew members on board, Amtrak said in a statement.
According to media reports, this was the first time the train was running down a new bypass created to avoid slow curves and single-track tunnels on the BNSF Railway mainline tracks near Point Defiance and along southern Puget Sound.