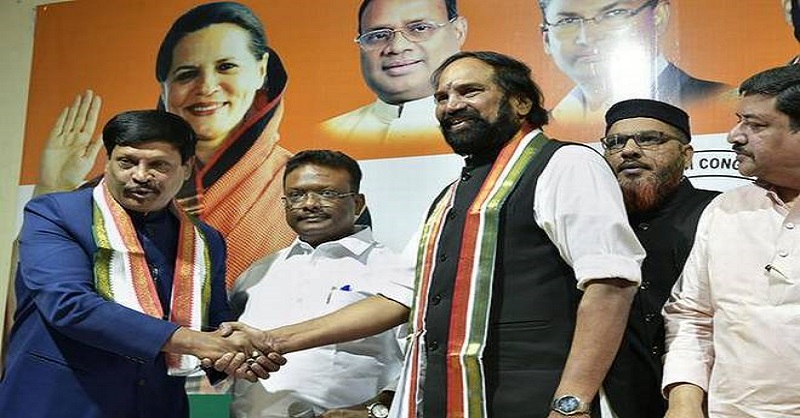 During elections, the candidates and parties promise various demands of the people. Do they fulfill all the demands or not?
Telangana Pradesh Congress Committee president N. Uttam Kumar Reddy has slammed the Telangana Rashtra Samiti Government for its alleged failure to implement the major electoral promise of giving 12% reservation in jobs and education to Muslims.
Mr. Reddy was speaking at Gandhi Bhavan after scores of professionals and intellectuals from the minority community joined the party extending their support to the State leadership and AICC president Rahul Gandhi.
The TPCC chief pointed out that former leaders of Jana Shakti had recently joined Congress while the influx of party leaders from the TDP, TRS and other groups and different sections of the society into Congress were on. He said the joining of eminent personalities and intellectuals was a clear indication that the party's mass appeal had strengthened and it would bounce back to power in 2019 elections.
Mr. Reddy said that as a citizen he was shocked over the way BJP was treating minorities and how religious fundamentalism under BJP regime was at its peak wherein people are being targeted for what they eat and wear. "Independent India had never seen such behavior. Secularism and equality was the fundamental philosophy of Congress party and it gives equal respect to all religions."
He reminded that the Chief Minister, K. Chandrasekhara Rao had promised to implement 12% reservation for Muslims in just four months after coming to power and now he was talking about speaking to Prime Minister Narender Modi, raising the issue in Parliament, approaching the Supreme Court and even staging a dharna in Delhi.
He said the TRS would have no moral right to seek Muslim votes if it fails to implement 12% quota. Similarly, he said that promises made for improving the functioning of Wakf Board and Urdu Academy remained unfulfilled. He said he was born at Charminar Government Hospital and had a strong connection with the Old City since his birth.
Mr. Reddy also strongly criticised the TRS Government for not starting the Metro Rail in the Old City and said people should question the public representatives as to why they were being deprived of benefits of Metro Rail and even Municipal Administration Minister K.T. Rama Rao was conveniently silent on this.
He also said that the much-hyped double bedroom houses for the poor too remained a non-starter for the people of Old City, especially Muslims. TPCC Chief Spokesperson Dasoju Sravan said that people were fed up with the misrule of the Prime Minister at the Centre and mini-Modi (KCR) in Telangana.