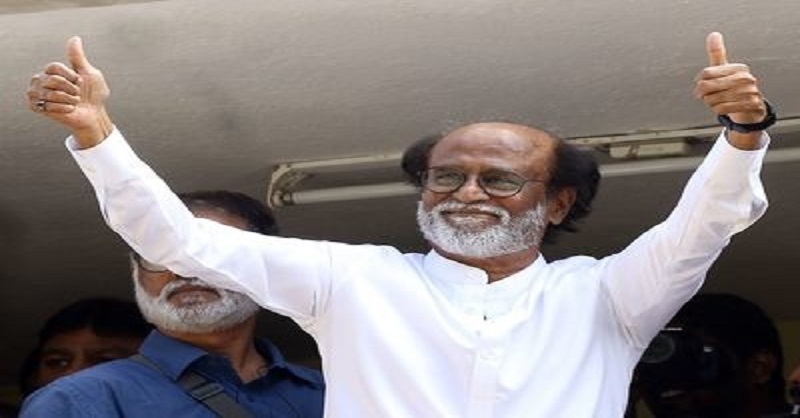 Marking his entry into Tamil Nadu state politics, Tamil superstar Rajinikanth Sunday said his party would contest from all the 232 assembly seats in the state. 
The actor said he was entering the arena as politics and governance in Tamil Nadu had turned so bad that the state has become a laughing stock. He said it was time to "change the government, change the system".
Rajinikanth also said he would take a call on whether to contest in the 2019 Lok Sabha elections when the time comes. Acknowledging that it would be no easy task to set up a party and contest in the election, Rajinikanth said it had to be done. "I did not have political ambitions when I was 45, so will I have it when I'm 68? I am not doing this for any post. I do not come for money or fame, as I have enough of it. But the politics have become so bad that rest of the world is laughing at us," Rajinikanth said at a fans meet-and-greet in Chennai.
"I don't want volunteers, I want guardians. I need guardians who don't ask the help of any politician for any personal need. I don't want party cadres. I want guardians who can fight for people's rights. And I'm just a people's representative, who will oversee this army of guardians. I need guardians who can question the government unconditionally," the actor added while breaking the suspense over his plans.
Rajinikanth's political plunge has triggered a debate whether his entry will be a paradigm shift or not. His decision comes at a time when the state is witnessing a political churning after the death of chief minister and AIADMK supremo Jayalalithaa and virtual retirement of nonagenarian DMK chief M Karunanidhi. Amid a thunderous applause from his fans, Rajinikanth, clad in a white kurta, declared, "I am joining politics and it is for sure." Espousing a new line of "spiritual politics," the 67-year-old actor, whose inimitable style and quick reflexes have won the hearts of cine-goers over the decades, said his (yet-to-be-named) party would contest all the 234 seats in the next Assembly polls, due in 2021. The party would be launched ahead of the state election at "an appropriate time", Rajinikanth said.
BJP state president Tamilisai Soundararajan has already said that Rajinikanth's political outfit will be part of NDA for 2019 polls. "His move may not only spoil the chances of DMK in the next polls, it may also kill other possibilities of emerging political alternatives. The impact will be more on smaller parties, as Rajinikanth is trying to translate his matinee idol image," says Ramu Manivannan, senior professor of politics at the University of Madras, said.
DMK working president M K Stalin did not agree that his party will be negatively impacted. Asked how Rajinikanth's move will impact DMK, Stalin said it has nothing to do with DMK's politics. "We will continue to do our work," he added.
A senior PMK leader said Rajinikanth may do a repeat of what Captain Vijayakanth's DMDK did to the PMK and other smaller parties a decade ago. But, the leader, added, "Rajinikanth may get a maximum of 10% votes in his first election but he cannot sustain for long (in Tamil Nadu politics), as his pro-BJP stand is already being questioned." Claiming that Rajinikanth has been given an "assignment" by BJP, D Ravikumar, general secretary of VCK, said his political entry is not a threat for parties in the entire state, "unlike" that of M G Ramachandran. Manivannan also said Rajinikanth's "acting as a front of BJP will not help him in Tamil Nadu politics".