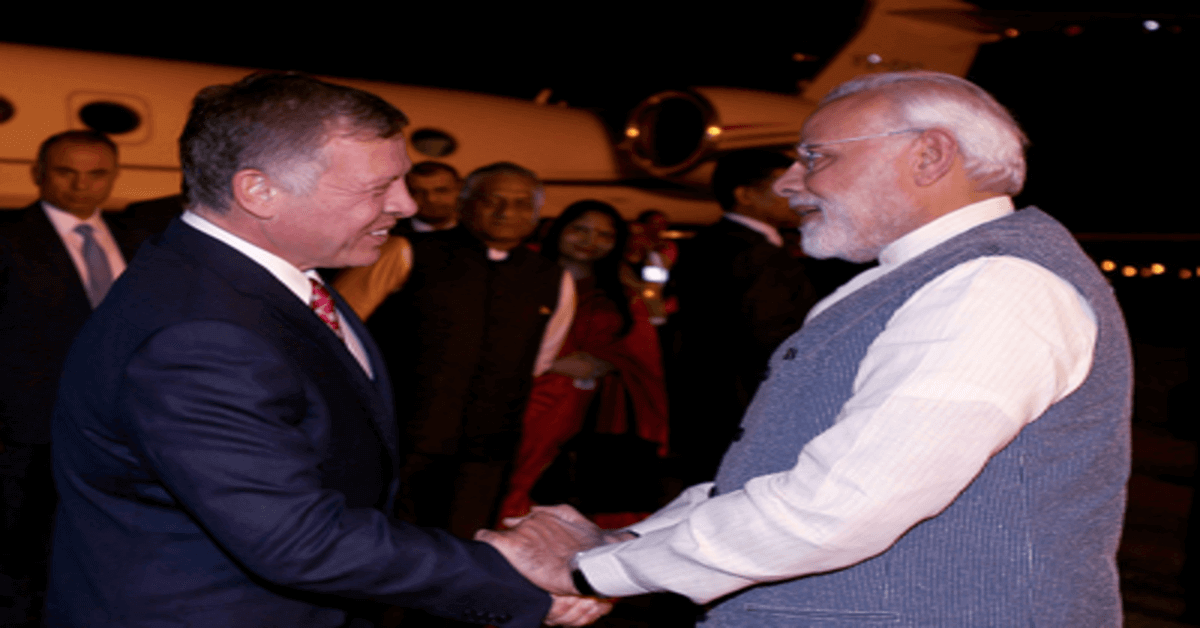 Jordan King Abdullah II bin Al-Hussein had arrived in India on Tuesday.
His visit comes soon after Modi's visit to Jordan earlier this month – the first by an Indian PM in 30 years.
Prime Minister Narendra Modi and the Jordan King are to hold bilateral talks.
The key areas of discussion between the two leaders will include defense, security, and investments.
King Abdullah, who is known to be against Islamic extremism, could be of great help to India in counter-terror operations.
The visit could also expedite the negotiation of a defense framework agreement between India and Jordan.
In fact, with Abdullah's support, India can deepen security ties with Jordan to leverage its unique strategic location in the Levant, with access to the Red Sea and the eastern Mediterranean.
PM Modi and the king are also likely to explore ways to deepen bilateral trade ties, which are especially significant as twenty textile industries from India have invested around $300 million in Jordan.
READ ALSO: Al Hussein to visit India today; PM Modi and King to hold talks
Here are the LIVE UPDATES:
14:16 (IST)
Agreements exchanged between India and Jordan in the presence of PM Narendra Modi and KingAbdullah II of Jordan.
12:59 (IST)
Jordan King Abdullah II meets Prime Minister Narendra Modi at Delhi's Hyderabad House.
11:30 (IST)
Jordan King Abdullah II addresses at the Vigyan Bhawan:
Different groups and ethnic groups have lived in unity. Faith allows us to prosper and thrive.
Where did human diversity begin, it began with a male and female.
To understand each other, to act righteously in the sight of God, the faith shared by Muslims around the world.
Qualities like leadership were passed on to me by my father.
It's my highest priority is to secure a future for all, including my neighbors and hosting refugees.
The world is one big family and we have shared responsibilities. Both Muslims and Hindus live together.
11:13 (IST)
PM Modi addresses at the Vigyan Bhawan:
Difficult to describe in words your (Jordanian king) role in establishing Islam's identity.
Your nation and our friend country are situated on a land from where the message of God was sent out across the globe.
Whether it's Buddha or Mahatma Gandhi, the message of peace was spread from here. It's been the land of Sufism. India has created an identity while considering the whole world as one family.
We are trying to take everybody along on the road ahead, on the road to success, to happiness
Focus not only on their success but also on their overall development, which is possible only if they value their traditions.
Muslim youth have Quran in one hand and computer in the other.
Modernity with tradition goes hand in hand. 
We would like to create awareness with the help of different leaders from all over the world. India would walk with you in your fight against terrorism. 
Thankful to you for accepting our invitation.
10:53 (IST)
King Abdullah II of Jordan, accompanied by a large business delegation and officials, is in India on a three-day official visit. pic.twitter.com/97stMXPlSB

— NDTV (@ndtv) March 1, 2018
09:51 (IST)
Hours before the meeting, Prime Minister Narendra Modi tweeted about his meeting with the Jordan King.
Looking forward to meeting His Majesty King Abdullah II today. We will take part in a conference on 'Islamic Heritage: Promoting Understanding and Moderation' at 10:30 this morning in Delhi. After that, we shall be holding talks aimed at boosting India-Jordan relations.

— Narendra Modi (@narendramodi) March 1, 2018
09:50 (IST)
Jordanian King Abdullah II pays tribute to Mahatma Gandhi at Rajghat in Delhi.
09:48 (IST)
King Abdullah II receives ceremonial reception at the Rashtrapati Bhawan in Delhi.
Mar 01, 2018
09:16 (IST)
King Abdullah II of Jordan arrives at Rashtrapati Bhawan, received by President Ram Nath Kovind and Prime Minister Narendra Modi.