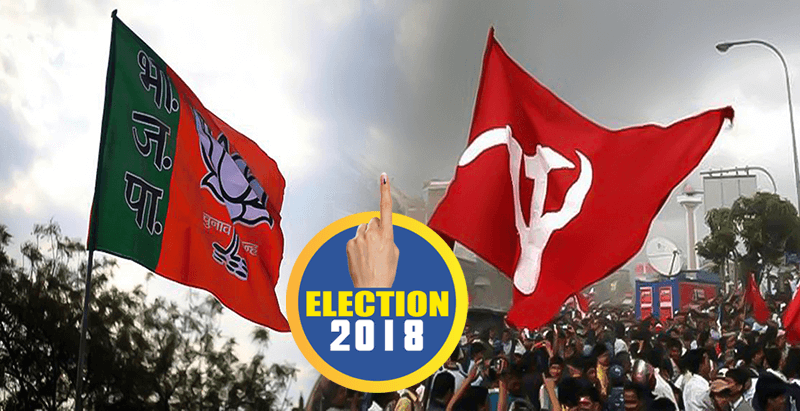 Early indications of the crumbling Red Fort was seen in the two exit polls predicting that the saffron party-led alliance may win over 35 seats in the state. Despite large-scale snags in VVPATs (Voter Verifiable Paper Audit Trails) and EVMs (Electronic Voting Machines), over 92 per cent (excluding 50,770 postal ballots) of Tripura's 2,536,589 voters cast their votes on February 18, setting a new record in the electoral history of India.
Here are the things you need to know as the lotus blooms in Tripura a snatches victory from the jaws of the Left government:
The BJP and its ally Indigenous People's Front of Tripura (IPFT), a tribal-dominated party, were together leading in majority constituencies. The BJP on its own was ahead in 33 seats, two more than the half-way mark, while its ally was leading in seven. The IPFT has already bagged one seat till the time of filing this report.
Also Read: Tripura: CPI(M) minister passes away; will party holds its seat?
In Tripura, the BJP which had no MLAs in the outgoing assembly and had polled just 1.5 percent votes in the 2013 elections, losing deposits in 49 of the 50 constituencies it contested, recorded a scintillating performance securing over 42 percent of votes in the February 18 elections.
The Left Front, which had 50 seats in the last elections, was ahead in just 18 seats. The CPI-M-CPI alliance has polled over 44 percent of votes, about six percent less than the last elections. The CPI-M alone has polled 43.3 percent, one percent higher than the winning BJP.
"We are happy with the trends in Tripura where the BJP looks like forming a government with 40 or more seats," BJP General Secretary Ram Madhav told reporters in Agartala. He conceded that the CPI-M gave a good fight but people voted for change to throw up "a revolutionary verdict, a historic verdict".The Congress, which had 10 members in the outgoing assembly, failed to even open its account this time. Many of its candidates may even lose their deposits.