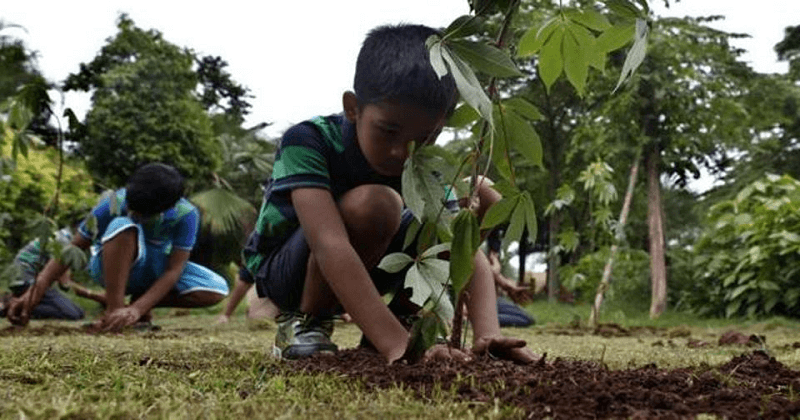 A Dubai temple distributed 2,083 saplings, broke the world record. Saplings were distributed to celebrate World Sikh Environment Day and the Sikh New Year.
Celebrating late UAE Founder Sheikh Zayed bin Sultan Al Nahyan's legacy, Guru Nanak Darbar Gurudwara Sikh temple distributed Delhi Private School students in Jebel Ali 2,083 saplings to remind the young generation of environment protection with broke the Guinness World Records for the largest distribution of saplings on Sunday morning after crossed the minimum requirement of 1,500 saplings.
The event is in line with the Year of Zayed, commemorating the life, values, and achievements of Sheikh Zayed, who was a true champion of environment protection.
About 2,500 students from all grade levels participated in the event that saw government officials and diplomats planting their own seeds to patronize the students to pursue the leaders' footpath in changing to earth green and growing their own plants and also encourage the scholars to do the same for the survival of natural disasters.
Read More: Shiv Sena & environmentalists raise protests against Mumbai cutting trees
The Sikh Gurudwara in Dubai previously broke the Guinness World Record for the 'Most Nationalities Having a Continental Breakfast' after gathering 101 nationalities of various faiths for breakfast last year.
"We only have one earth. This is our home. The same way we take care of our houses, the more that we should be concerned on preserving the environment," Kandhari said during his address to government officials and diplomats at the School.
"Our main aim is to teach our children to protect their environment as our existence is entirely dependent on its limited resources," he said.Generations change and the introduction of Artificial Intelligence, virtual reality, and robotics that will overtake the future, today's children do not get to explore nature but runs after the technology and technological products. Given the fast-paced technology, Kandhari said, it has never been more important to remind the future generation of the importance of going green.
Vipul, Consul General of India in Dubai, said where there are desert and water scarcity in the region, the UAE managed to focus on sustainability and protect its natural resources. "There's a lot to learn from them about sustainable living," he said. Trees produce as much oxygen in a season as 10 people inhale in a year. In a year, an average tree inhales 26 pounds of carbon dioxide, an amount emitted by a car after driving 11,000 miles. By planting of such a huge number of saplings, helps to abolish the increase of Carbon Dioxide in the atmosphere and purifies it.