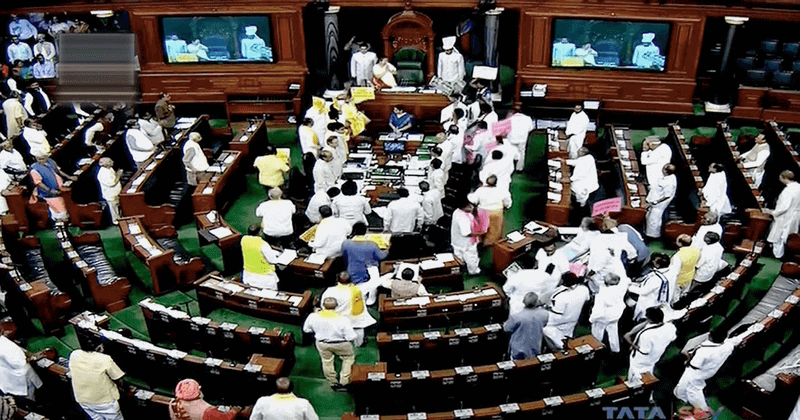 Once again the parliamentary proceedings had to be stopped following protests from various parties in the 2 houses. It also meant that the no-confidence motion noticed moved against the NDA government by the TDP and YSR Congress were once again overlooked due to the protest in issues such as the formation of Cauvery Management Board and special status for Andhra Pradesh.
This was the 14th consecutive day in which the speaker was forced to adjourn the meeting. It must be noted that both the houses were adjourned within 15 minutes into the session. Protests and sloganeering marked the day's proceedings in the Lok Sabha as it began on Thursday. Opposition MPs were chanting "We want justice" in the background, while Speaker Sumitra Mahajan tried to conduct the proceedings. While DMK MPs were raising their voice for the formation of Cauvery Management Board, the TDP MPs were seen demanding special status for Andhra Pradesh.
ALSO READ: Parliament in session today; will it review no-confidence motion?
As soon as the House met, several members, rushed near the Speaker's podium raising slogans and showing placards. When the protests grew louder, she said, "Nobody wants to listen, nobody wants to run the House." The protest did not stop even when Mahajan tried to take up the Question Hour. Later, Parliamentary Affairs Minister Ananth Kumar asked the protesting members to let the House function normally and said the Centre was open to discuss all issues including the no-confidence motions.
At this point, Mahajan brought up the issue of the no-confidence notices and said she cannot take up the matter until the House was in order. However, the opposition MPs continued to shout and this forced her to adjourn the House till Friday.
The Rajya Sabha also was adjourned for the day soon after the House met on Thursday. However, the government managed to pass a key legislation that empowers it to fix the period of maternity leave and the tax-free gratuity amount of employees with an executive order. Soon after the bill was passed, members belonging to the AIADMK, the TDP and the Congress gathered near the Chairman's podium and began shouting slogans. Rajya Sabha chairman Venkaiah Naidu also made requests to the protesting MPs to return to their seats but in vain. Later, he adjourned the House for the day.
The situation is getting worse in the Parliament as the proceedings are getting delayed and disrupted by the opposition parties' protest. While the Congress and other Opposition members have been protesting against the banking fraud allegedly committed by absconding jeweler Nirav Modi and his associates, the TDP and the YSR Congress have been demanding for special status to Andhra Pradesh.