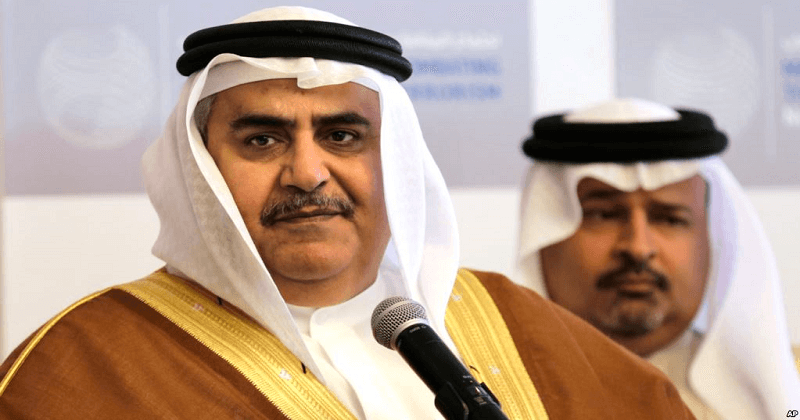 Speaking during the main session of first day of the 17th Arab Media Forum, Sheikh Khalid bin Ahmed Al Khalifa, Minister of Foreign Affairs of Kingdom of Bahrain, said the current situation denotes no sign of making peace with Qatar anytime soon or later, adding that a new formula indeed to be taken to alter the current situation.
There's no space for making peace with Qatar and the current alternations witnessed in Saudi Arabia will contribute to the region's prosperity", a Bahraini diplomat said.
He was speaking to a crowd of delegates that included His Highness Sheikh Mohammed bin Rashid Al Maktoum, Vice-President and Prime Minister of the UAE and Ruler of Dubai, and his sons Sheikh Hamdan bin Mohammed bin Rashid Al Maktoum, Crown Prince of Dubai, and Sheikh Mansour bin Mohammed bin Rashid Al Maktoum. The forum, held under the theme "Impactful Media Trends," addresses media responsibilities in an ever-changing digital era with the presence of over 2,500 prominent regional and international media figures and thought leaders.
He added that the change Saudi Arabia is witnessing is a sign of ongoing development, progress and openness. "There is a general comfort towards what's happening in Saudi. We will see a leap in the economy, arts and social life of Saudis who have incredible energy to exert in different fields. Now is their time," said Al Khalifa.
Read More: https://www.eastcoastdaily.in/2018/04/03/saudi-crown-prince-said-israelis-deserve-to-live-in-peace-on-their-land.html
The social and economic progress of Saudi Arabia will add to the region's prosperity and ability to utilize the talents of the youth, he noted. "The main challenge the GCC is currently facing is setting the example of prosperity and development. The rest is simple, and can be solved."
"We have previously signed two joint security agreements with Qatar in 2013 and 2014. Will we go back to signing another agreement? The answer is no, we need a new equation," said Al Khalifa.
On relations with Iran, Al Khalifa focused on handling the situation with utmost care and being prepared to take any acts when security is threatened.
"Iran had wanted to claim Bahrain and had acted as a threat to the regime for years. When our governments reconciled, Iran had turned into a friend and an ally. We never felt threatened although it was creating a big army and a nuclear program," said Al Khalifa.
The two-day event features 50 speakers representing 20 countries from across the Arab region and the world. It takes a close look at the influence of recent developments of the Arab region on the media and intercepts the ways of instilling ethical values in the industry.