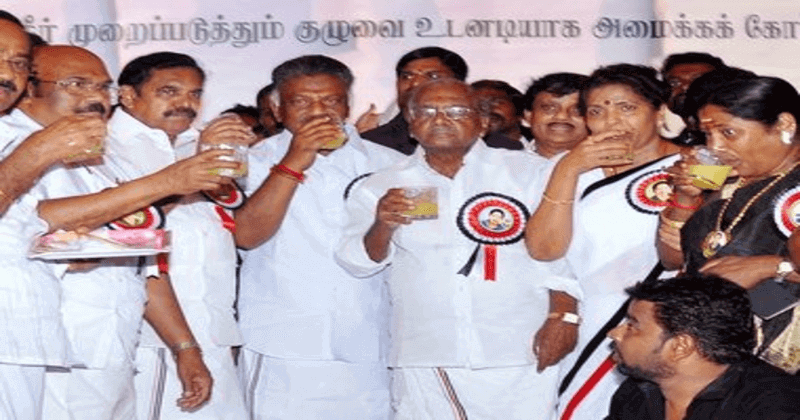 Dissatisfied with the Supreme Court's verdict on the distribution of the Cauvery waters, the AIADMK had gone a hunger strike.
AIADMK members were out in the open on Tuesday staging a hunger strike to demand the formation of the Cauvery Management Board for resolving the impending Cauvery water issue. But soon after the declaration of this strike, some party members were photographed gobbling up what looked like biryani.
Although, it could have been a snazzy version of the humble tomato rice. And although there isn't any confirmation on the menu, a feast amidst a hunger strike was definitely not what the supporters must have expected from their 'outraged' leaders.
The images procured by a leading news agency were shot in Vellore and Pudukottai, and appear to expose the "sincerity" with which the AIADMK has been fighting for the setting-up of the Cauvery Management Board. There is much anger against the ruling party's reluctance to take on the Centre's delay in setting up the Board and several have pointed out that the strike was a mere eyewash.
READ ALSO: DMK to intensify its protest against Centre over Cauvery issue
The protest was launched in Chennai by Tamil Nadu chief minister E Palaniswamy and Deputy Chief Minister O Panneerselvam. It began at around 8 am and concluded at 5 pm (excluding the 'lunch-break'). Reportedly, the entire AIADMK cabinet also took part in the strike, while other leaders drove the protest in various districts of Tamil Nadu.
Meanwhile, DMK-led Opposition parties have also called for a state-wide shutdown on 5 April, seeking the Centre's intervention to form the board.
The Cauvery water dispute has been a matter of conflict between the South Indian states of Tamil Nadu, Karnataka and Kerala since 1881. In 1990, the Centre formed the Cauvery Water Disputes Tribunal (CWDT) to help solve the dispute. Meanwhile, the Supreme Court had pronounced its verdict on 16 February stating that of the total 740 tmcft; Tamil Nadu, Karnataka, Kerala and the Union Territory of Puducherry would be annually entitled to 404.25 tmcft, 284.75 tmcft, 30 tmcft and 7 tmcft of Cauvery water respectively. The Central government has submitted a plea before the apex court seeking clarification on its verdict.
The Supreme Court on Tuesday agreed to hear the Centre's plea and the next date of hearing in the case has been set for 9 April.