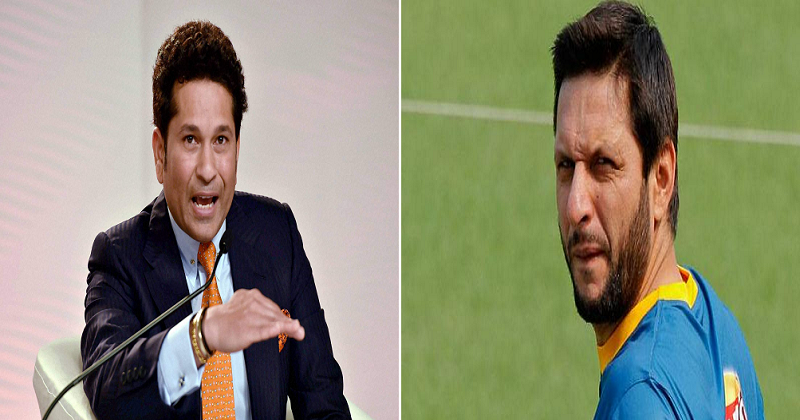 Sachin Tendulkar hits back Shahid Afridi, says 'no outsider needs to tell us what to do'
Sachin Tendulkar hits out Pakistani cricketer Shahid Afridi for his remarks urging the United Nations (UN) to intervene in "Indian Occupied Kashmir" to stop the killing of "innocents", reported news agency.
"We have got capable people to manage and run our country. No outsider needs to know or tell us what we need to do," the legendary batsman retorted.
Earlier today, top Indian cricketers, including captain Virat Kohli, led the charge against Afridi for his remarks on Kashmir.
Kohli stressed that he could "never support" anything that harms Indian interests.
Also Read  :  Gautam Gambhir bashed Shahid Afridi over his insensitive Kashmir tweet
"As an Indian you want to express what is best for your nation and my interests are always for the benefit of our nation. If anything opposes it, I would never support it for sure," he said.
"But having said that, it's a very personal choice for someone to comment about certain issues. Unless I have total knowledge of the issues and the intricacies of it I don't engage in it but definitely your priority stays with your nation," he added.
Former captain Kapil Dev wondered why Afridi was being given importance.
"Who is he? Why are we giving importance to him? We should not be giving importance to certain people," he said.
Suresh Raina reiterated that "Kashmir is an integral part of India and will remain so always."
"Kashmir is the pious land where my forefathers were born. I hope @SAfridiOfficial bhai asks Pakistan Army to stop terrorism and proxy war in our Kashmir. We want peace, not bloodshed and violence," he wrote.