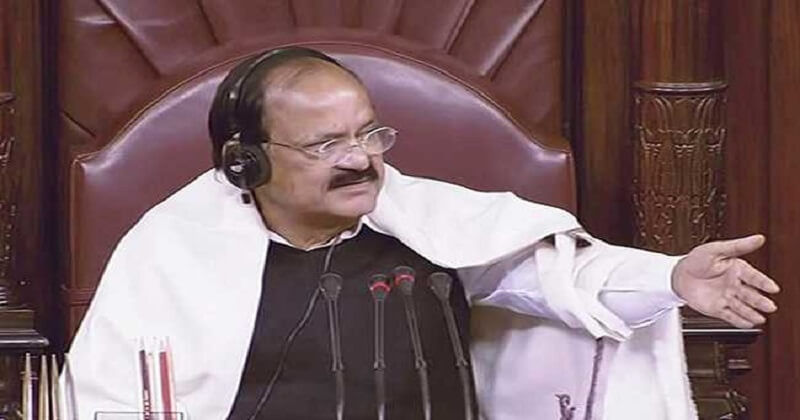 Rajya Sabha Chairman Venkaiah Naidu criticised the members of the Rajya Sabha on Wednesday for repeatedly disrupting the house. He said that by doing so the members are testing the patience of the country. He later adjourned the house till 2 pm.
It must be noted that the shouting and protests by the opposition MPs continued to happen today morning also which forced the chairman to react strongly. He said, "We have not transacted any bills. The country wants development, you are testing the patience of the people of the country. Please understand that the entire country is agitated with what is happening in the House. I've allowed every issue, you are not discussing, unfortunately. It is the misfortune of the people of India. Chairman allows discussion, the government agrees but we are not able to have a discussion. I do not understand what is this. This is no good. This is murdering democracy. The entire country is agitated, depressed." Earlier, 12 newly elected and re-elected members took oath in the house.
ALSO READ: MP denied to vacate position of Rajya Sabha after Chairman Naidu arrives
While Congress and BSP MPS have been protesting against softening provisions of the Scheduled Castes and Tribes Act, Tamil parties such as DMK and AIADMK have been demanding the establishment of the Cauvery Water Management Board. Meanwhile, MPs from Andhra belonging to TDP and other parties are holding a protest against the government for not granting special category status to Andhra Pradesh.
It must be noted that the Lok Sabha is also witnessing similar situation due to the protest by the opposition MPs. Both the houses have not been able to discuss major bills and issues due to the ongoing protests against issues such as Cauvery verdict, Andhra Pradesh special category, PNB scam etc.