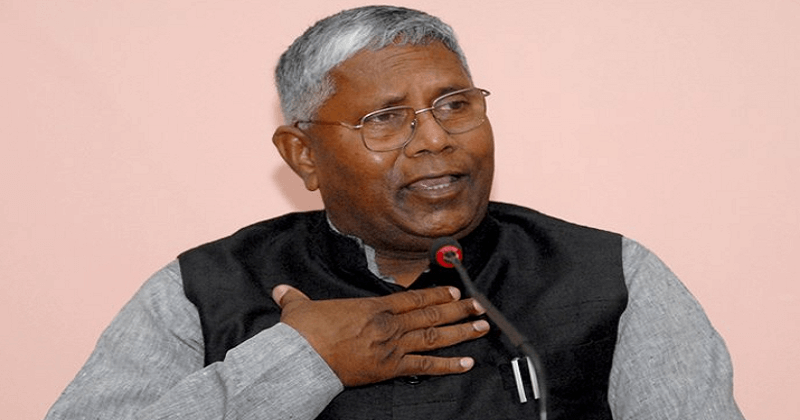 Senior Janata Dal (United) leader and former Assembly Speaker Uday Narayan Chaudhary announced that he is leaving the party, on Wednesday
Mr Chaudhary, an influential Dalit leader of the State, said he was hurt over Nitish Kumar-led NDA government's anti-Dalit approach.
"From now onwards I'm no longer associated with the JD(U) in any way… I am hurt over Nitish Kumar-led NDA government's anti-Dalit approach," Mr Chaudhary said.
"The government recently stopped scholarship for Dalit students, kept silence over SC/ST Atrocities Act and reservation for Dalits in the promotion of their services… the government is also keeping mum over reservation of Dalits in judiciary… the attacks on Dalits to have increased in the State", charged Mr Chaudhary.
"But, the party [JD(U)] is promoting only capitalists", he alleged further.
Mr Chaudhary recently involved in the first-anniversary programme of former BJP leader Yashwant Sinha's National Forum (Rashtriya Manch) in Patna and had slammed the NDA government in Bihar and at the Centre.
Read More: Chhota Rajan convicted gangster Chhota Rajan and nine others in J Dey murder case
When asked about his future plan, Mr Chaudhary said, "Only time will tell, but I'm no longer with JD(U), BJP and other NDA alliance parties."
To a question on whether he would be joining the RJD?, "My options are open… just wait for some time," he replied. Mr Chaudhary, for some time, has been in touch with the Opposition party RJD.
"There are several other leaders in JD(U) who too are ready to quit the party…. there will be an exodus from the party in coming days… let's wait," added Mr Chaudhary who was with the JD(U) for the last two decades.
Meanwhile, political sources reported that Mr Chaudhary will be joining RJD soon.