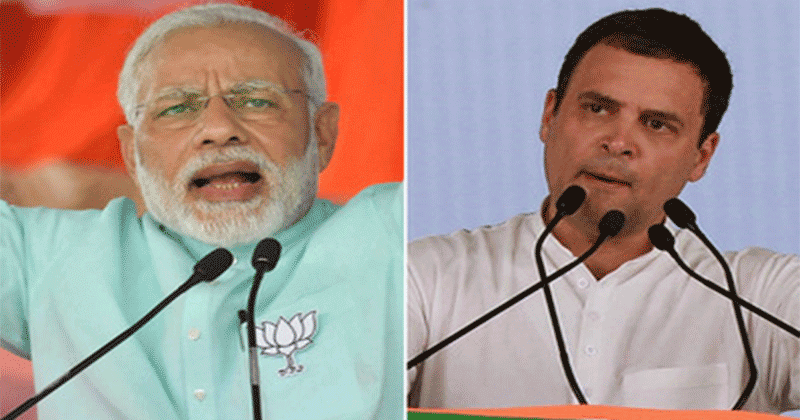 With just days left for the Karnataka elections, the leaders are not holding back in pointing fingers at their rivals, going to any lengths to expose their mistakes.
Launching a no-holds-barred attack on Prime Minister Narendra Modi, Congress president Rahul Gandhi posted a video on Twitter titled- "Karnataka's Most Wanted" in the run-up to the upcoming assembly elections. In the video, the Congress chief is challenging Modi to speak about corruption allegations against Bharatiya Janata Party (BJP) chief ministerial face for Karnataka elections BS Yeddyurappa and some other candidates of the party. 
Taking a jibe at the PM, the video questions if he will speak for 5 minutes on these issues. The video even ends by saying the PM could use a paper for answers referring to the war of words between the BJP and the Congress over speaking from notes. Posting the video, Rahul wrote: 
Dear Modi ji,

You talk a lot. Problem is, your actions don't match your words. Here's a primer on your candidate selection in Karnataka.

It plays like an episode of "Karnataka's Most Wanted". #AnswerMaadiModi pic.twitter.com/G97AjBQUgO

— Rahul Gandhi (@RahulGandhi) May 5, 2018
"Making someone who has 23 cases of corruption, cheating, forgery your CM candidate? When will you speak on your top 11 leaders facing corruption cases," it questioned. The clip named B. Sriamulu, G. Somashekara Reddy, T.H. Suresh Babu, Katta Subramanya Naidu, C.T. Ravi, Murugesh Nirani, ES EN Krishnaiah Shetty Malur, K. Shivanagouda Naik, R. Ashok, and Shobha Karandlaje as the 11 BJP candidates facing criminal cases. 
"Putting a lid on the Rs 35,000 crore illegal iron ore mining scam of the Reddy brothers. Waiting your reply," the video said. 
READ ALSO: Karnataka Elections: BJP unveils manifesto with focus on women development
This isn't the first time when Rahul Gandhi has questioned PM Modi's silence on an issue. On Friday, he had accused him of muzzling Dalit voice in Parliament. Modi, he alleged, was favouring a handful of industrialists and neglecting the weaker sections.
"Modiji talks about (Baba Saheb) Ambedkar but does not allow Kharge Ji (Mallikarjun Kharge) to speak in Lok Sabha. His men (saffron outfits) are crushing and beating up Dalits and tribals across the country, but Modiji does not utter a word," Gandhi told an election meeting in Karnataka.
The Congress chief's counter-attack came a day after Modi claimed at an election rally at Kalaburagi that the Congress did not make Mallikarjun Kharge, a Dalit, the chief minister of Karnataka even though he was projected for the top post during the 2013 polls. Kharge, the leader of Congress in the Lok Sabha, had hit back at the prime minister, saying he does not need Modi's "crocodile tears" for Dalits or himself.
"They killed Rohit Vemula and beat up Dalits in Uttar Pradesh and Maharashtra, and yet he remains silent," Gandhi, on his 8th visit to election-bound Karnataka, said. He said the Congress government in Karnataka was the only one in the country to have added half the money to the funds allocated by the Centre for the welfare of Dalits and tribals and spent it on them.
READ ALSO: Karnataka Elections: CM Siddaramaiah slams PM Modi through Twitter
PAPER NOTES CONTROVERSY
The controversy around paper notes began after Rahul dared the PM to allow him to speak for 15 minutes in Parliament on various issues, including corruption. The Congress chief claimed that Modi would not be able to sit for 15 minutes. 
Responding to the challenge, Modi while addressing a rally in poll-bound Karnataka asked Rahul to speak in any language about the achievements of his party's government in the state without referring to a piece of paper.
READ ALSO:  Narendra Modi dares Rahul Gandhi to speak 15 minutes on Congress' achievements
The PM was in turn challenged by Karnataka Chief Minister Siddaramaiah to speak about the BJP government led by BS Yeddyurappa in Karnataka by looking at a piece of paper. "Dear PM @narendramodi Ji, I challenge you to speak about the achievements of BS Yeddyurappa's Govt in Karnataka for 15 minutes by looking at a paper," Siddaramaiah had tweeted.
Rahul had on Thursday released a report card for Modi where he judged him for the subject 'agriculture' in Karnataka. As expected, the results weren't anything that the BJP or the PM would like. 
READ ALSO: Prime Minister Narendra Modi receives an 'F' in his report card: Rahul Gandhi
Karnataka will go for polling on May 12 and the counting of votes will take place on May 15.