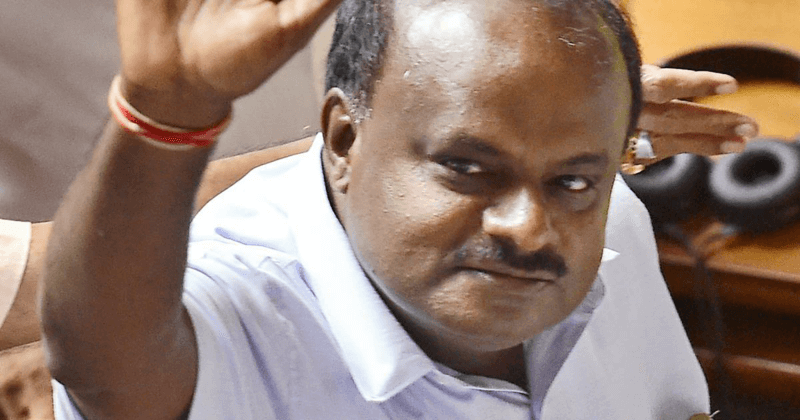 HD Kumaraswamy is in a jubilant mood and his actions assertive when he turned his oath-taking ceremony into a huge opposition conclave that aims at taking on BJP in 2019. While there have been many disturbances inside the Congress-JD(S) coalition and also the recent confession of Congress MLA Hebbar about his party making fake calls to trap BJP, Kumaraswamy minced no words when he directly issued a threat to Modi. He told the reporters after the oath-taking ceremony that the BJP had used him 12 years ago and that after the Uttar Pradesh election his aim was to tie the Ashwamedha horse of Narendra Modi and Amit Shah. He added that Congress and the JD(S) had caught and tied the Ashwamedha horse and that a lifeless horse might go to Modi soon. According to the Indian tradition, Ashwamedha horse was released by a sovereign ruler to expand his kingdom. The lands through which the horse passed unhindered would be the ruler's new kingdoms and if anyone captured the horse, it was taken as a challenge to the sovereign ruler and should be solved by a battle.
See also:Now the truth is out: Congress made fake phone calls to target BJP!
The 58-year-old HD Kumaraswamy spoke with much hope in an oath-taking ceremony which was in a way a reunion of rivals. Trinamool Congress supremo Mamata Banerjee and CPM Leader Sitaram Yechuri, then Mayawati and Sonia Gandhi shared the same stage for Kumaraswamy's swearing-in ceremony.
To this camaraderie of the 'proclaimed' arch-rivals, H D Kumaraswamy said that it was historic to see so many leaders come for the swearing in of a Chief Minister and he added that the leaders had not come there to support him but to give a message that there would be a big change in 2019."They said it is important to join hands with the Congress to save the country", Kumaraswamy told.
The Congress has taken the back seat and is cooking up a new equation which gives regional parties a chance to lead the fight in the forefront. Congress expects a grand alliance with the regional leaders like Mamata Banerjee, Chandrababu Naidu, Tejaswi Yadav, Akhilesh Yadav and Mayawati. In that grand alliance, Congress will be playing the part of a coordinator and facilitators. Though a stooping equation to India's oldest party, its like oxygen for a dying man.
H D Kumaraswamy proudly told the media about his discussion with Mamata Banerjee where she had underscored the importance of regional parties. She was among the first to congratulate Janata Dal-Secular Chief H D Deve Gowda on the Congress alliance to take on BJP. Kumaraswamy said that she(Mamata) had advised him how they work out future politics in the country.