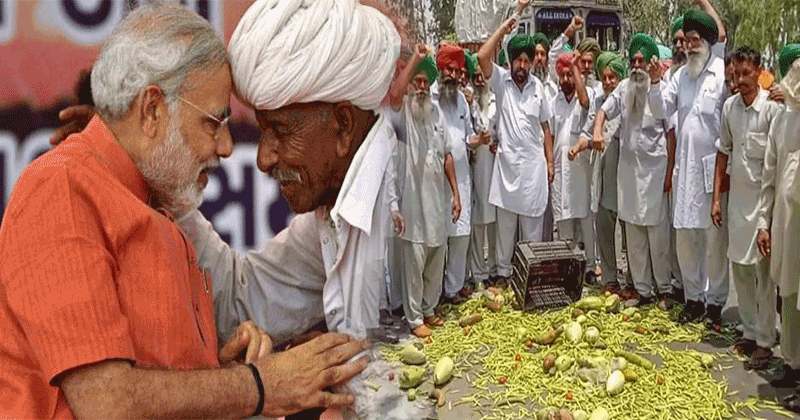 Nation-wide the farmers are protesting against the government and have not sent their produce to the urban areas, amid which an insensitive comment crops up.
Farmers across several states have launched a 10-day agitation to demand better prices and loan waivers to pull them out of debt traps. They have refused to send their produce to urban centres, at places throwing vegetables and milk on roads as a mark of protest.
Union Agricultural Minister Radha Mohan Singh spoke his mind on the protests on Saturday. Singh suggested that the protests were an exercise to get media attention.
"It requires some unusual deeds to appear in the media. The country has about 12-14 crore farmers. There will always be organisations with a following of a few thousand," Singh told reporters at a press conference when asked about the agitation.
Singh, the minister for agriculture and farmers' welfare, was sharply criticized by the opposition for what the Congress says are "insensitive remarks".
"It is the height of insensitivity on part of the Union agriculture minister at a time when farmers are under so much distress. He should be sacked immediately," said RJD spokesman Manoj Jha.
READ ALSO: Striking farmers stop supply of vegetables, milk; prices likely to rise
Congress leader Sadanand Singh said the BJP has been ridiculing distressed farmers instead of solving their problems.
"The remarks of the Union agriculture minister are insensitive. Thirty-five farmers in the country commit suicide every 24 hours, but the Modi government seems to be impervious to their plight," he said in a statement.
Former Bihar chief minister and Hindustani Awam Morcha founder Jitan Ram Majhi said Singh's statements are a "reflection on his feudal mindset. We demand that Prime Minister Narendra Modi immediately sack the anti-farmer agriculture minister."
But Union Minister Radha Mohan Singh isn't the only senior BJP leader to attempt to run down the protests.
Haryana Chief Minister Manohar Lal Khattar has called the farmers' protests "pointless".
"There is no issue,"  Khattar said. "By saying they won't sell farmers' produce they'll only cause losses to the farmers," he said.
The Congress's RPN Singh said the BJP had promised farmers the moon when they were in the opposition. Once in power, the party only exploited them.
READ ALSO: Farmers launched massive 10-day nationwide protest against the Modi government
Madhya Pradesh agriculture minister Balkrishna Patidar claimed that farmers in his state were "happy with the schemes that chief minister Shivraj Singh Chouhan launched for them".
"It is 2nd June today. Where is the strike the protests had had no impact," he claimed.
But reports from several wholesale markets indicated there had been a sharp decline in the number of vegetables and grains reaching urban centres.
It has been reported that only 800 sacks of grains and vegetables reached the market in Madhya Pradesh's Mandasaur, the epicentre of last year's farmer protests that led to six deaths of farmers. The market normally receives 40,000 to 60,000 sacks every day.
In Delhi, only a quarter of the vegetables reached the wholesale market.
"Our agitation for demands including loan waiver and better prices for crops has started impacting MP. It has affected nine states, overall," said Rashtriya Kisan Mazdoor  Mahasangh (RKMM) convener Shivkumar Sharma.
Punjab Chief Minister Amarinder Singh said the strike was a sign of the farmers' desperation "in the face of the wrongs being perpetrated on them by the central government".