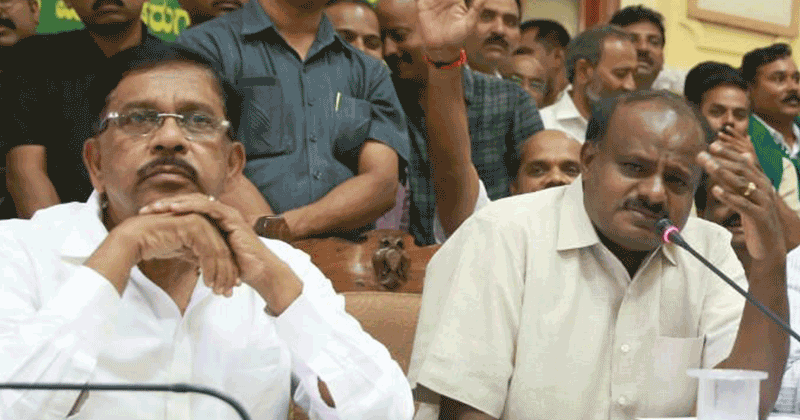 And finally, after 2 weeks of the swearing-in of the CM Kumaraswamy and deputy CM G. Parameswaran, the Cabinet has been formed.
The oath-taking ceremony of Karnataka ministers will take place on Wednesday in Raj Bhavan in Bengaluru.
The ceremony will take place at 2.12 PM at the Governor's residence.
Portfolios for the cabinet ministers in the Karnataka coalition government would be allocated after their swearing-in on Wednesday.  As decided by the alliance partners on June 1, the Congress will have 22 portfolios and the JD-S will have 12 berths.
As per the agreement between the alliance partners, the Congress will have the following portfolios: Home, Irrigation, Bengaluru City Development, Industries, Health, Revenue, Urban Development, Rural Development, Agriculture, Medical Education, Housing, Labour, Women & Child Welfare, Forest & Environment, Mines & Geology, Social Welfare, Food & Civil Supplies, Law & Parliamentary Affairs, IT, BT and Science & Technology, Kannada Culture, Sports & Youth Affairs, Haj & Wakf and Minority Affairs, and Ports and Inland Transport Development departments.
READ ALSO: Conflict between the Congress-JD(S) members over Cabinet portfolios?
Besides Finance, the JDS will have Excise, Information, Intelligence, General Administration, Planning & Statistics, Public Works Department (PWD), Power, Cooperation, Tourism, General Education, Animal Husbandry & Fisheries, Horticulture & Sericulture, Small-Scale Industries, Transport and Minor Irrigation.
The only BSP legislator in Karnataka, N Mahesh, is also expected to be a part of the cabinet expansion. 
BSP supremo Mayawati has deputed its senior leader Satish Chandra Misra to attend the cabinet expansion function today. This is the first time that the BSP will be a part of the government outside of Uttar Pradesh. 
The Congress and the Janata Dal (Secular) had earlier agreed upon forming coalition coordination and monitoring committee that will look over the functioning of the alliance in the state.