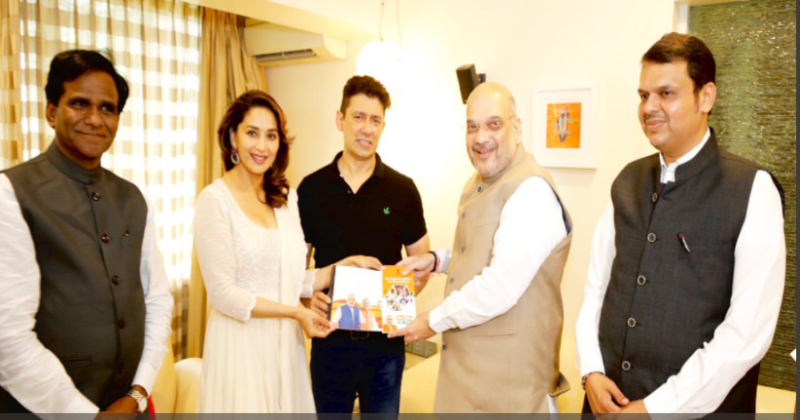 On the sidelines of BJP Campaign 'Sampark for Samarthan', Bhartiya Janata Party President Amit Shah met Bollywood actress Madhuri Dixit Nene at her residence. The Modi – Government-led campaign is to get the support of prominent people on the performance of the government for last 4 years. As part of this BJP has planned to visit three main people including Lata Mangeshkar, Madhuri Dixit, and industrialist Ratan Tata. Amit Shah visited Madhuri Dixit at her residence and presented her with a booklet which described the various promises fulfilled by the government.
Adorning her self in a traditional attire, the 'Dhak Dhak Girl' looked impeccable.She wore an intricate off-white Anarkali suit with Chikankari embroidery on the hem of her sleeves and dupatta.The regal look became more ethereal with pink elaborate sparkled earrings.
Maharsahtra CM Devendra Fadnavis was also with the delegation who visited Madhuri Dixit, the details of the meeting with pictures were shared by BJP President Amit Shah in his Twitter account.Amit Shah's tweet read thus,"It was pleasant meeting the noted Bollywood actress @MadhuriDixit and Dr. Shriram Nene as a part of "Sampark For Samarthan" initiative at their home in Mumbai, Maharashtra. Have discussed the achievements and path-breaking initiatives of PM @narendramodi govt in last 4 years.".
The upcoming movie of this hearthrob of Indian youth is Kalank, co starring Sanjay Dutt, Varun Dhawan, Alia Bhatt, Aditya Roy Kapur and Sonakshi Sinha.Yet another much awaited movie is Total Dhamaal in which she will share the screen space with Anil Kapoor.
Madhuri Dixit debuted in the Marathi film industry through the movie Bucket List.Producer of Bucket List was Karan Johar and the plot surrounded a housewife's journey in different shades of life.