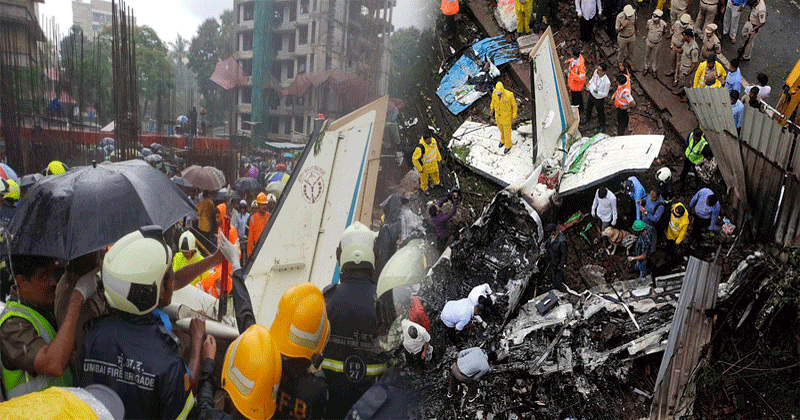 Yesterday, a Mumbai plane had crashed into the busy lane of a residential area and reported the death of 5 people including a pedestrian.
Moments before a small Beechcraft C 90 crashed at a Mumbai suburb yesterday afternoon, the pilot swerved to avoid hitting any residential building, saving many lives, tweeted former aviation minister Praful Patel.  
Saddened to hear about the unfortunate incident at #ghatkopar as Charter plane crashes in an open area. Salute to the pilot who showed presence of mind to avoid a big mishap, saving many lives at the cost of her own life. #RIP to all the 5 Dead. My deepest condolences.

— Praful Patel (@praful_patel) June 28, 2018
The plane took off from the Juhu Aerodrome for a test flight, with two pilots and two maintenance engineers at 12.20pm and lost ATC contact at 1.08 pm, according to the Juhu authorities.
The crash site- Jagruti building in Sarvodaya Nagar of Ghatkopar, was near to buildings under construction, so there were very few people there at the time.
Facing engine trouble, the pilot wanted an emergency landing on the main runway of the Mumbai airport instead of heading to Juhu Aerodrome but crashed just a short distance from the airport.
The King Air C90 12-seater aircraft took off from the Juhu airstrip. A team of officials of the Directorate General of Civil Aviation (DGCA) rushed to the crash site for an investigation, an official told the media.
READ ALSO: Air India Flight Makes Emergency Landing With 124 Passengers Onboard
Apart from police, fire brigade and disaster management teams also rushed to the spot. Bodies of those killed were taken to the nearby Rajawadi hospital in Ghatkopar, an official added.
A fire brigade official said, "Our control room received a call at 1.15 pm informing a plane crash. Our jawans were immediately rushed to the site to launch the rescue operation. Four fire engines and as many water tankers were rushed to put out the fire."
The chartered plane does not belong to UP govt, as claimed by some reports. The state govt had sold it to Mumbai's UY Aviation. The deal was done after the plane had met with an accident in Allahabad: said Principal Secretary Information Avnish Awasthi. Aircraft Accident Investigation Bureau will conduct a detailed probe into the crash, DG Civil Aviation B S Bhullar told the media.
Meanwhile, the pilot's husband holds the aviation company responsible for the crash.
Prabhat Kuthariya, the husband said that the crash could have been averted.
"The incident could have been averted. Maria had told me that the flight won't be flown due to bad weather. The aviation company is responsible for this unfortunate incident," he said.