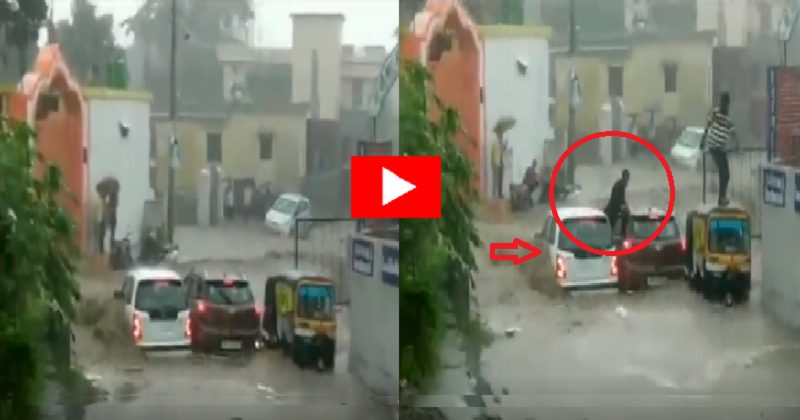 In a shocking incident, passengers of two cars and an autorickshaw managed to get out from their vehicles on a flooded road, seconds before the two hatchbacks were pulled away by a surge of strong currents in Uttarakhand's Haldwani city.
Heavy rain has been pounding the hill state for the past few days.
On a mobile phone video shot by a witness on Monday, muddy water is seen hitting a white hatchback on its front left door with considerable force. As the current becomes stronger, the water pushes the white car towards a red one and pins it to an autorickshaw beside a concrete wall.
Also Read : Heavy Rain in Kerala : Idukki dam water level touches 2,395 feet, Orange alert issued 
The driver of the white car, a Hyundai Santro, is seen struggling to climb out of the window since the red car has blocked his exit. He manages to get out as the strong currents unhinge the wheels from the slippery ground and move his vehicle suddenly. Two more people jump out of the rear window just in time and they make a dash for safety.
#WATCH: Passengers in 2 cars & auto rickshaw escape just before 1 of the cars on flooded street gets washed away in water in Haldwani. The second car was also washed away after some time. #Uttarakhand pic.twitter.com/9C9J7nZadH

— ANI (@ANI) July 30, 2018
Seconds later another man climbs out from the front left window of the red car, a Hyundai i20, and jumps on to the roof of the autorickshaw. He turns around, only to see the white car being carried away by the currents. Soon after his car is also gone, news agency ANI reported.