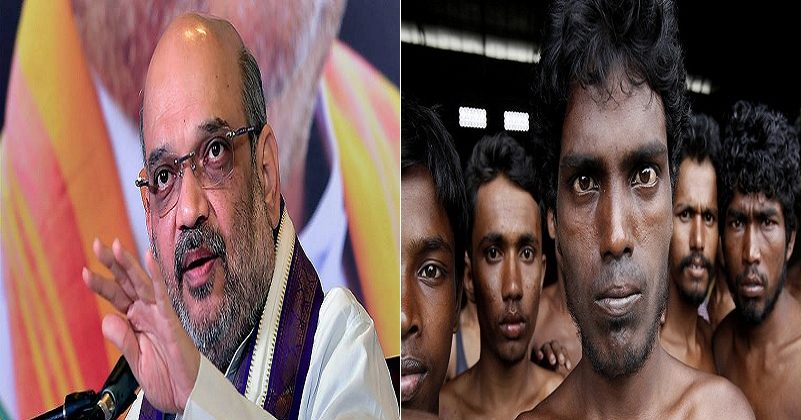 Those who cannot prove their citizenship have no right to participate in elections, BJP president Amit Shah said on the issue of the controversy surrounding the National Register for Citizens (NRC) draft report.
He also said after concluding the issue of NRC in Assam the government will decide on how, when and whether to proceed on conducting similar exercises in other parts of the country.
Shah said, "40 lakh infiltrators have entered our country illegally. They have no right to remain in the country…We will give all of them opportunity to prove their citizenship but those who are unable to do so have no right to participate in the democratic processes of the country. He added that those who are found to be living in the country illegally will not be deported.
The BJP party president also targeted the Congress over the NRC issue. "The Assam Accord was signed by Rajiv Gandhi. It was he who decided on the deportation of illegal immigrants. But despite this, the Congress did not have the courage to implement the NRC."
He also said that all political parties should clarify their stand on the issue of NRC. "Whether illegal immigrants should be living in the country or not. Congress shouldn't hide behind Mamata Banerjee and play politics over the issue."
He said that BJP had taken strong roots in Northeastern India. "We are become number two in West Bengal and we have also become No. 2 in Odisha. Politics is chemistry not physics. When two chemical substances combine, a third is born."
Also Read : Karunanidhi was like a father figure to me : Sonia Gandhi 
Famous for making sky-high targets for his party before elections, and often securing them, Shah said that he hadn't set a target for the party for 2019 polls yet but claimed that BJP will form government again next and with an ever bigger majority than his party did in 2014.
He also dismissed reports of an anti-incumbency wave against the ruling NDA government. Shah said that the anti-incumbency wave depends on the way the government is run. BJP has given good governance in the country. The public often chooses transparent governments. If the government is transparent, then there is no anti-incumbency wave.
Shah said that the BJP has the most popular leadership in the world. "So far only TDP has left us…there is no major problem with our coalition partners". On the issue of lynching, Shah said that the law is taking its course in all the cases. "Everyone has the right to ask question on the issue of lynching. Our governments did not register FIR against unknown people in a mob. People found guilty in investigations have been named in these FIRS. We have taken strict action."