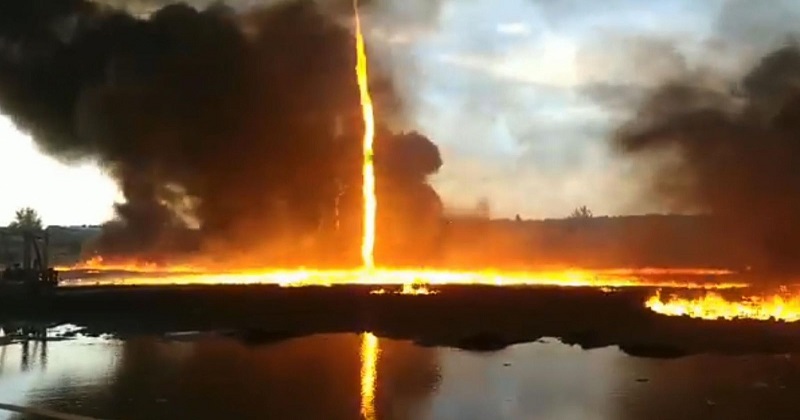 Firefighters have captured the moment a "firenado", or a fire whirl tore through a plastics factory in Derbyshire. They released footage of the fire showing it reaching a height of more than 15 metres (50ft). Officers had been tackling the blaze, at Ravensbourn Plastics, Occupation Lane, in Albert Village, Swadlincote, since about 1.20am on Tuesday. Watch Video here:
courtesy: Guardian news
In the horrifying footage, the "firenado" is seen swirling as firefighters rushed to the scene. Fifty firefighters rushed to Ravensbourn plastics factory in Swadlincote, Derbyshire, just after 1.40am. A spokesman for Derbyshire Fire and Rescue Service said: "The fire involved approximately 100 metres x 100 metres of stacked plastic pallets.
READ ALSO: Man Loses His Son On an Accident From a Pothole, He Fills 556 Potholes on Road
"At the height of the fire, ten fire engines, crews and specialist appliances from across Derbyshire, Leicestershire and Staffordshire had been at the incident".  East Midlands Ambulance Service attended but no injuries were reported. Factory owners David Meredith, 74, and his son Russell, 36, said three members of staff were in the factory at the time of the blaze but they escape unharmed.
Leicestershire fire and rescue service shared the video on Facebook, saying: "While we were firefighting at Occupational Lane we witnessed a firenado or a fire whirl. It's created as cool air enters the top of the hot air causing a swirl similar to how a tornado is formed."