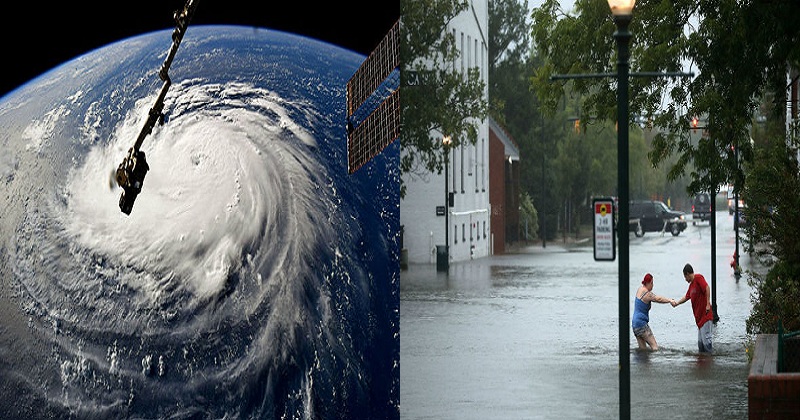 Hurricane Florence is on a path of destruction that will put millions of people at risk and threaten billions of dollars in property damage, centered on the Carolinas, through this weekend.
Florence dipped to Category 2 hurricane strength with maximum sustained winds of 100 mph on Thursday evening.
The outer bands of Hurricane Florence lashed the Carolinas with wind and rain on Thursday, flooding roads and overflowing rivers in an ominous prelude of the damage the huge storm could inflict when it makes landfall on Friday with millions of people in its path.
Florence, downgraded to a Category 2 storm on the five-step Saffir-Simpson scale, remained dangerous and unpredictable, the National Hurricane Center said. It was forecast to make landfall Friday morning or afternoon near Cape Fear, North Carolina, bringing up to 40 inches (1 metre) of rain in places.
"Hurricane Florence was uninvited but she's just about here anyway," North Carolina Governor Roy Cooper told a news conference, warning residents to stay vigilant despite the downgrade. "Stay on guard. This is a powerful storm that can kill."
Also Read : Weatherman Forecasts Hurricane Florence To Weaken
Florence's maximum sustained winds were clocked on Thursday at 100 miles per hour (170 km per hour) as it spun in the Atlantic Ocean, down from a peak of 140 mph (224 kph) earlier this week when it was classified as a Category 4.
The community of Avon on North Carolina's Outer Banks barrier islands reported wind gusts of 74 miles per hour (119 km per hour), while Morehead City on the mainland coast had received 3.6 inches (9.1 cm) of rain in the past 13 hours, according to the National Weather Service.
Already some roads and intersections were inundated with water, making them impassable.
About 10 million people live in the storm's path and more than 1 million had been ordered to evacuate the coasts of the Carolinas and Virginia. Thousands have taken refuge in emergency shelters, officials said.
Heavy rains were forecast to extend into the Appalachian Mountains, affecting parts of Alabama, Tennessee, Kentucky and West Virginia.