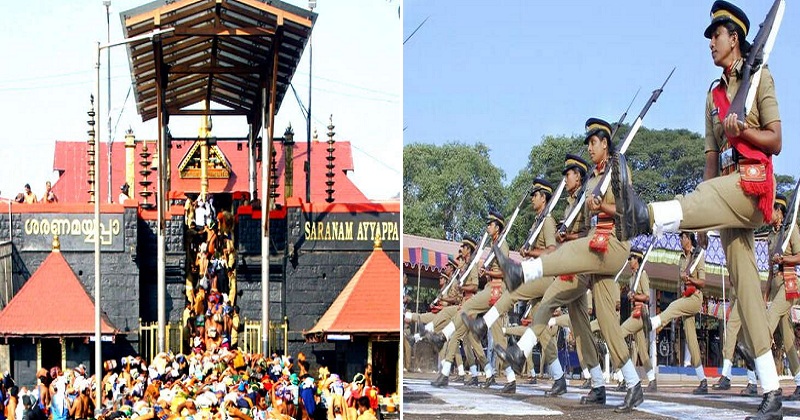 The top court on Friday opened the doors of the Sabarimala temple to women of all ages in a 4-1 judgment, beating back centuries-old traditions of the temple management to deny the right to worship to women of procreating age. For decades, women between the ages of 10 and 50 were not allowed entry into the shrine as the Travancore Devaswom Board, that manages the temple, cited the 'celibate' nature of the presiding deity, Lord Ayyappa.
Kerala Govt has started preparations for implementing the Supreme Court order permitting women of all ages to enter Sabarimala. In the police headquarters,  the top officers are charting out plans to deploy women police officers at Pamba and Sannidhanam.
The aim is to send police women two days before monthly puja begins. The women constables for Sabarimala duty will be selected from three A R camps in the State. Thiruvannathapuram Range IG Manoj Abraham is in charge of the security. Three teams comprising 20 police personnel including two DySPs, four CIs and 15 SIs will be deployed in Pamba and Sannidhanam.
Police women have been chosen from AR Camps after women officers in police stations expressed their opposition to enter sannidhanam. The Intelligence wing of the police is also known to have given the report on the resentment among the police women in police stations.
Instructions have been given to deploy women officers at Pamba, Sannidhanam and even at the flight of 18 steps. Sabarimala will reopen for monthly puja on October 17 at 5 pm. Devotees will be allowed entry at Pamba by noon on that day.
The decision was taken to send women police officers two days earlier as there is an Intelligence report that policewomen climbing the hillock with devotees may also be blocked.
The Sabarimala Ayyappa Seva Samajam (SASS), an affiliate of the Sangh Parivar, to file a review petition against the Supreme Court order permitting women of all ages into Sabarimala Lord Ayyappa temple.