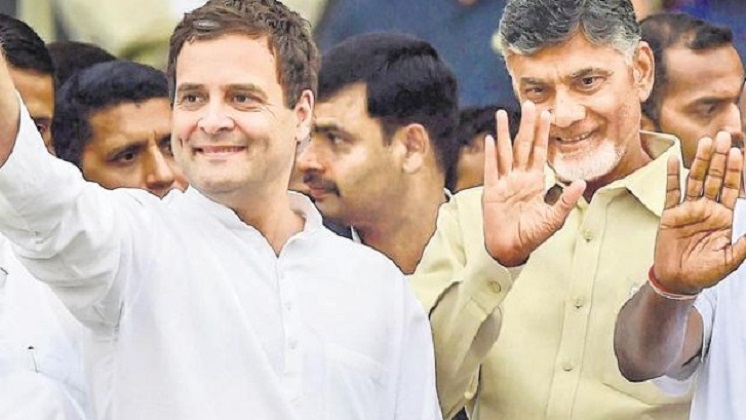 All the non-National Democratic Alliance parties are likely to meet on November 22 to decide on future course of action under the slogan of 'save democracy and save the nation'.
As part of the anti-Bharatiya Janata Party campaign, Andhra Pradesh Chief Minister N Chandrababu Naidu on Saturday met Congress party national general secretary and former Rajasthan chief minister Ashok Gehlot at his residence and discussed the future course of action.
"This is broadly an anti-BJP platform. This is in the interest of the nation. Save democracy, save the nation and save institutions — that is the national agenda, an utmost important agenda," both the leaders told the reporters.
Naidu said that efforts are on to bring together all non-BJP parties and that he had met Congress president Rahul Gandhi to discuss measures on protecting democracy.
Taking a dig at Prime Minister Narendra Modi, Naidu said that the former is responsible for the present state of affairs in Central Bureau of Investigation and the Reserve Bank of India.
Referring to demonetization, Naidu said that even after two years there is no result.
The BJP government claimed that demonetization would help to bring the black money back but it turned as a futile exercise, he added.
"The central government is resorting to conduct raids on those questioning including media, politicians to frighten them," the chief minister said.
Speaking on the occasion, Ashok Gehlot said that Naidu met Rahul Gandhi and discussed how to save democracy. He underlined that no one is happy with the Modi-led government including farmers, youth, women, poor and petty traders.
To establish the anti-BJP platform, Naidu till date has met Congress party president Rahul Gandhi, National Congress chief Farooq Abdullah, Bahujan Samaj Party supremo Mayawati, Delhi Chief Minister Arvind Kejriwal, veteran leader Sharad Yadav, former BJP leader Yashwant Sinha, Samjadwati party leaders Mulayam Singh and Akhilesh Yadav.
The chief minister said that it is time to take a decision on the country's future.
"I have no personal interest. We have to protect the country, democracy', constitutional rights should be protected. We are strong in technology, Youths are more.
"Narendra Modi's negative attitude and unilateral decisions along with Amit Shah leading to problems in the country. The Modi-Shah duo is destroying the systems in the country and giving priority to their own man," he said.
He added that there was an undeclared emergency in the country and all democratic institutions were being destroyed.