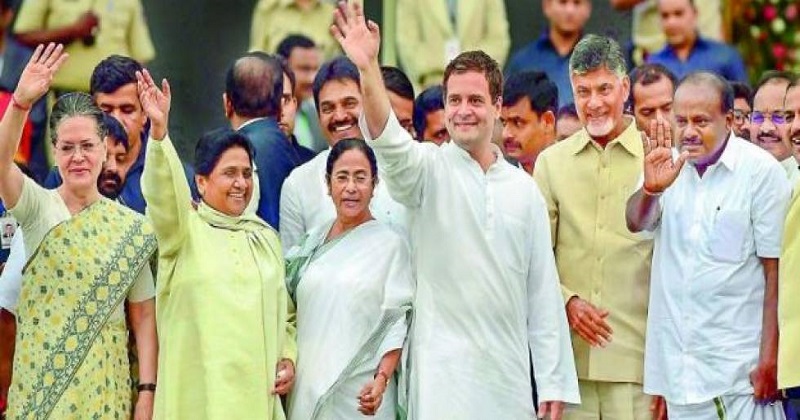 The Congress party and the other opposition parties will meet in New Delhi on November 22 to discuss the formation of an anti-BJP front ahead of the upcoming Lok Sabha Elections 2019, sources said. The meeting of the parties, which is seen as the first major move to build a grand alliance against the Bharatiya Janata Party (BJP), was decided after Telugu Desam Party (TDP) president and Andhra Pradesh Chief Minister N. Chandrababu Naidu and senior Congress leader Ashok Gehlot met on Saturday.
The meeting, according to the reports, will be attended by Congress President Rahul Gandhi, Chandrababu Naidu and leaders of other parties. Other leaders expected to attend the meeting include Janata Dal-Secular (JD-S) supremo H.D. Deve Gowda, MK President M.K. Stalin, Aam Admi Party leader and Delhi Chief Minister Arvind Kejriwal and others since TDP President Naidu had met the said leaders to push the opposition unity against the saffron party in the general polls.
The future course of action will be decided at the proposed meeting in New Delhi, Naidu had said. Addressing a press conference, the Tamil Nadu Chief Minister said that efforts were on to bring together the regional parties to challenge Prime Minister Narendra Modi in the Lok Sabha polls.
Naidu said he would meet Trinamool Congress leader and West Bengal Chief Minister Mamata Banerjee on November 19-20 in Kolkatta to invite her to join the proposed the anti-BJP front. The TDP chief told reporters that he was already in touch with Banerjee, but would personally meet her to invite her to join the efforts for opposition unity. He would also invite her to the November 22 meeting.