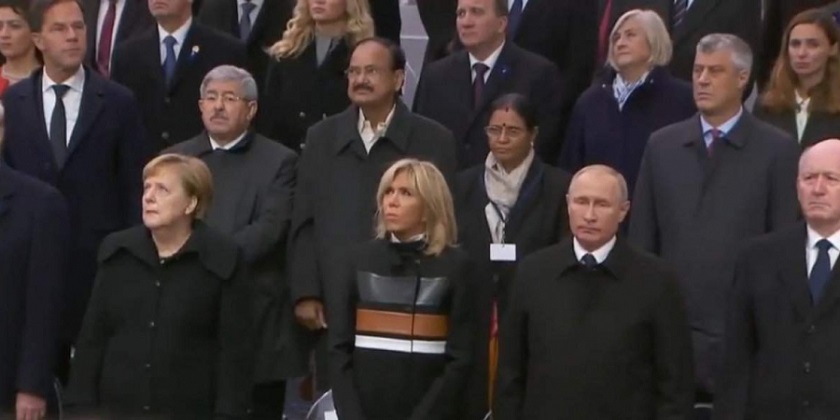 Vice President M. Venkaiah Naidu on Sunday attended a solemn ceremony commemorating the centenary of the end of World War I along with other world leaders at the historic Arc De Triomphe in the French capital.
Naidu is on a three-day visit to France. Earlier, Naidu was received by Macron at the Elysee Palace here.
French President Emmanuel Macron, US President Donald Trump, his Russian counterpart Vladimir Putin and dozens of other world leaders were also present at the World War I Armistice Day centenary.
The ceremony at the foot of the Arc de Triomphe war memorial on the Champs-Elysees marked the culmination of events for the 100th anniversary of the end of the four-year conflict from 1914-18 which claimed 18 million lives, including many Indian soldiers.
On Saturday, Naidu had inaugurated the first India-built war memorial in northern France to pay tribute to thousands of Indian soldiers who died fighting in World War I.
Indian troops were on the Western Front by winter of 1914 and fought at the first Battle of Ypres. By the end of 1915, they had sustained many casualties along with casualties from sickness, the decision was taken to withdraw Indian Corps from front-line duty at the end of 1915.
Some 800,000 Indian troops fought in all the theatres of the war with 1.5 million volunteering to fight.
They fought in most theatres of war including Gallipoli and North and East Africa. In all 47,746 were classed as killed or missing with 65,000 wounded, he said.
The Indian Corps won 13,000 medals for gallantry including 12 Victoria Crosses. Khudadad Khan won the Corps first Victoria Cross. Such was the cost of the war, that India's economy was pushed to near bankruptcy.