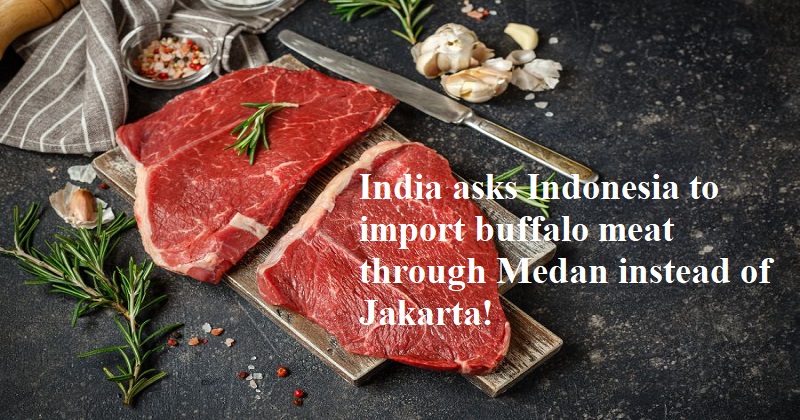 India has asked Indonesia to allow the shipment of buffalo meat through the port of Medan on its northern coast rather than Jakarta due to the latter's proximity to the nation. The export of bovine meat through Medan port, which is located in the north of Indonesia, as opposed to Jakarta, which is located in the south, would result in a substantially higher cargo, according to the officials.
It can potentially be cheaper to pay for transportation. It takes over 1,500 kilometres to go between the ports of Medan and Jakarta. The annual import quota for bovine meat, which is now fixed at around 0.1 million tonnes, has also been increased, per India's request, and Indonesia's request (MT).
M. Angamuthu, chairman of the Agricultural and Processed Food Products Export Development Authority (APEDA), told the Financial Express, 'We have requested Indonesia to open the Medan port for the import of bovine meat to make it more inexpensive and greatly increase exports. Along with requesting an increase in import volume, we also asked for the export quota to be released promptly'.
29 meat-processing plants in Uttar Pradesh, Maharashtra, Telangana, Punjab, Bihar, and Kerala now have permission from Indonesia to export buffalo meat from India. To explore more practical strategies to increase the shipping of beef meat, a party from APEDA recently visited Indonesia.
India exported $ 2.1 billion worth of buffalo meat from April to November in the current fiscal year, 4 percent less than it exported during the same period in 2021–2022. The World Organization for Animal Health (OIE) standards for risk mitigation are followed while processing and exporting buffalo meat. Vietnam, Malaysia, Egypt, Indonesia, Iraq, Saudi Arabia, and the United Arab Emirates are the top five exporters of meat.