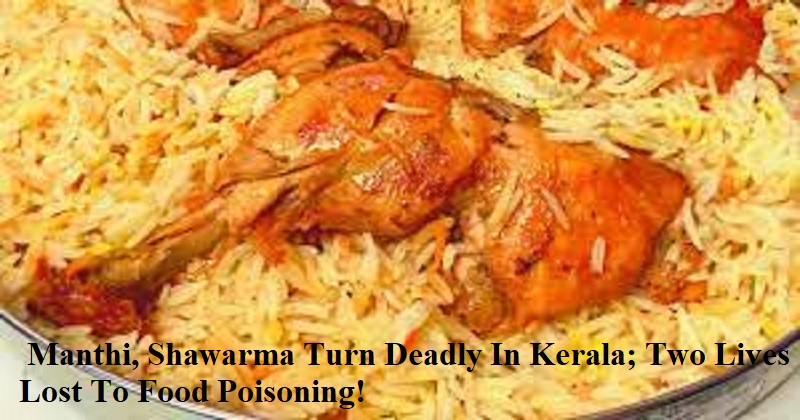 On Saturday, a 19-year-old girl died from suspected food poisoning in Kasargod, Kerala. Anjusree Parvati has been identified as the dead, according to the police. The deceased's family members devoured 'kuzhi manthi' that they had ordered online from a restaurant. The kid was transferred to a hospital in Kasaragod on January 1 and then to Mangalore for treatment after she and her family began exhibiting signs of food poisoning.
Second death in a week
Rashmi, a nurse from Kottayam, died last week as a result of food poisoning after eating Manthi. Rashmi's family claims that she ingested Manthi from Malappuram Kuzhi Manthi-Hotel Park in Kottayam before developing symptoms of food poisoning.
What is Manthi?
Similar to biryani, the Middle East is a huge fan of the Lebanese cuisine known as manthi (Mandi). Kerala has seen a significant increase in the number of Manthi and Manthi eateries. Additionally, there have been increased incidences of food poisoning connected to Manthi recently, for which many people have sought medical attention.
The authorities slap the whip;
The Kerala Health Department and Food Safety Department of the local authorities have been inspecting restaurants around the state since Rashmi's passing. A number of eateries that were operating illegally and in unsanitary circumstances had to close. Restaurants where stale food was discovered during the inspection have also faced consequences. Additionally, it was learned that the restaurant where the nurse had dinner had its licence revoked last month as a result of complaints. After paying a Rs 20,000 fine, the business was permitted to open.
 Shawarma death in Kerala 
After Devananda, a 16-year-old student, died and about 18 other people became ill after eating shawarma from a snacks bar in the Kasaragod area, Kerala had similar searches by the Food Safety Department in May 2022. Arabian foods like Shawarma and Manthi have recently gained enormous popularity in Kerala, although many have noted that the cooking, if not done by professionals, might have negative effects. Food experts believe that undercooked meat and quickly spoiling mayonnaise are the major causes of the food poisoning outbreaks associated with Shawarma and Manthi.
Guidelines for Shawarma eateries
The Kerala Health Department published recommendations regarding the making, keeping, and selling of shawarma after Devananda passed away in September 2022. The Food Safety Standards Authority of India must certify that the components in shawarma are safe to eat, and the dish should be maintained at four degrees Celsius (FSSAI).
Cleanup of old utensils and stands is required, and the shawarma must be made hygienically. The leftovers must be taken out and properly disposed of, and the meat-slicing knife must be completely cleaned. To get a licence, you must submit both the maker's and the server's fitness certificates.
Use of mayonnaise
For the production of the mayonnaise that is served with the meal, the recommendations advise against using raw eggs. Shawarma mayonnaise shouldn't be left out at room temperature for more than two hours. It advised keeping mayonnaise in the refrigerator at 4 degrees Celsius and not using it after two days.