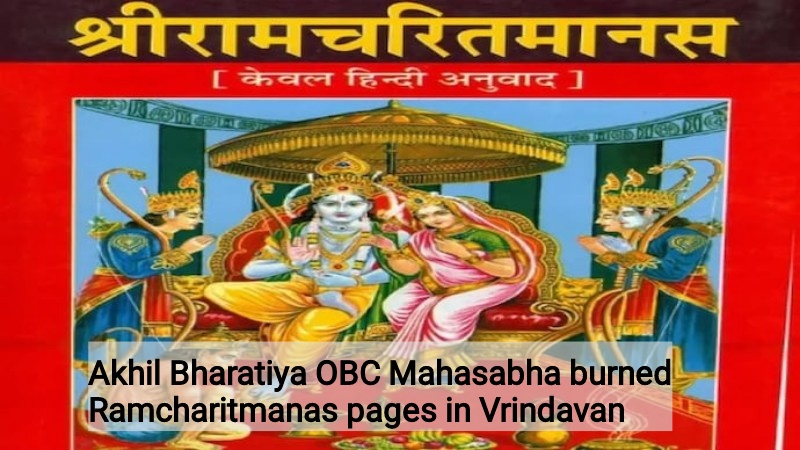 In support of SP leader Swami Prasad Maurya, a group by the name of Akhil Bharatiya OBC Mahasabha burned photocopies of Ramcharitmanas pages on Sunday in Vrindavan that they claimed contained 'objectionable comments on women and Dalits.'
The protest was held in the Vrindavan Yojana sector, ostensibly in support of Maurya, who claimed in a statement on January 22 that the Hindu epic contained passages that were prejudiced against women and Shudras.
'As reported in a section of the media that we had burnt copies of Ramcharitmanas, it is incorrect to say that. We took out the photocopies of the objectionable comments from the Ramcharitmanas, which were against the 'Shudras' and women, and burned the photocopied page in a symbolic protest,' Devendra Pratap Yadav, an Akhil Bharatiya OBC Mahasabha state office holder, told PTI.
'Swami Prasad Maurya has already demanded that the objectionable comments mentioned in the Ramcharitmanas should be removed or banned. The government did not take any steps in this regard. We have extended support to Swami Prasad Maurya on this, and the Akhil Bharatiya OBC Mahasabha stands with Swami Prasad Maurya,' he said.
Tulsidas, a poet associated with the Bhakti movement in the 16th century, wrote the epic poem Ramcharitmanas, which is written in the Awadhi language and is based on the Ramayana.
In regards to his statement and action, 'We stand united with him,' Yadav said, adding that the group would continue to hold protests of this nature.
A prominent OBC leader in Uttar Pradesh named Maurya caused a stir when he claimed that some verses from the Ramcharitmanas 'insult' a sizable portion of society based on caste and called for them to be 'banned.'
Prior to the 2022 Uttar Pradesh Assembly elections, Maurya, a cabinet minister in the BJP government, left his position and joined the Samajwadi Party.
He ran unsuccessfully for the Kushinagar district's Fazilnagar Assembly seat. Later on, SP president Akhilesh Yadav appointed him to the legislative council.