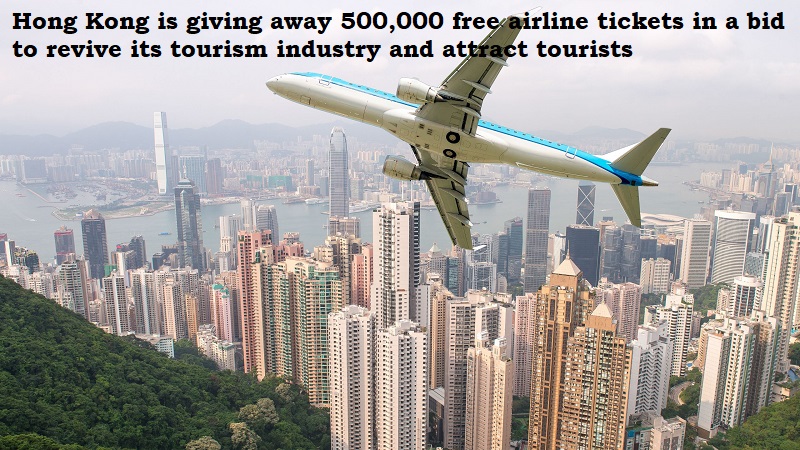 Hong Kong is giving out 500,000 free flight tickets in an effort to boost its tourism sector and draw visitors. The project, titled 'Hello Hong Kong,' was introduced on Thursday. But for about two years, it had been in the works.
The three airlines serving the City, Cathay Pacific, HK Express, and Hongkong Airlines, are participating in the programme, and the tickets will be distributed among them. The city will shell out about $254.8 million for the 500,000 tickets.
Dancers and neon lights flashed as the 'Hello Hong Kong' campaign was introduced next to the city's iconic harbour in the major convention centre. The message was written on the backdrop in several languages, including Spanish and Russian.
Hong Kong leader John Lee said the campaign aims to tell the world that the city was open for tourism and was aimed at boosting business and investment in the region.
'Hong Kong is now connected to mainland China and the whole international world, and there will be no isolation, no quarantine and no restrictions on experiencing … enjoying the hustle and bustle of Asia's world city,' he said.
Here's how to bag the tickets
Those who wish to make use of the offer should visit the World of Winners splash page starting March 1 and enter their names into the flight ticket lottery. The entire process has been divided into three parts, targeting different regions. From March 1, it will be open to people across Southeast Asia, from April 1 to people living in mainland China and from May 1 to residents in the rest of the world.
What to expect in Hong Kong?
The Hong Kong you might have once visited no longer exists. Several attractions, such as the Jumbo Kingdom floating restaurant, have permanently shut shop. The famous Peak Tram underwent a makeover in the last three years.
In an effort to fend off COVID, Hong Kong has been virtually closed off for the majority of the last three years. Arrivals were subject to strict testing and screening, as well as a required quarantine of up to three weeks. The zero-COVID strategy of China was strictly followed till the middle of 2022.
The majority of limitations were removed from Hong Kong in December, but masks are still required everywhere else but during exercise.