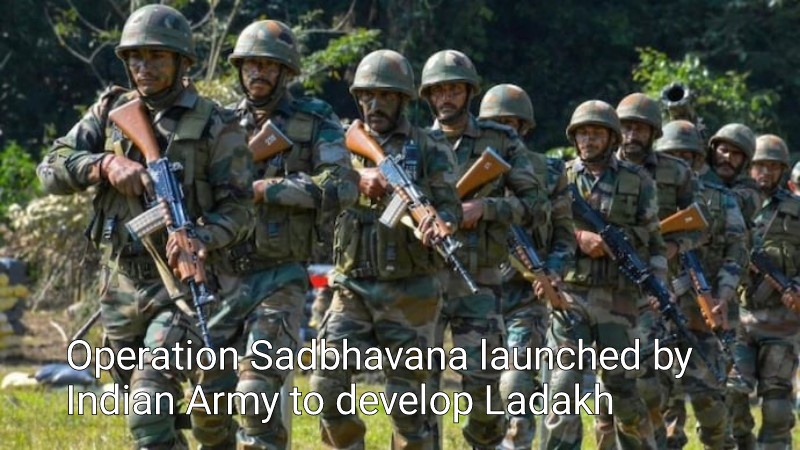 In the Union Territory of Ladakh, the Indian Army is running a variety of welfare programmes as part of 'Operation Sadbhavana,' including running schools and undertaking infrastructure development projects.
The initiatives are intended to benefit children in Ladakh's outlying regions.
'To improve the standard of education and to provide them with quality education, the army is currently running seven Army Goodwill Schools [AGS],' it said in a statement. There are more than 2,000 students enrolled in these institutions.
Ladakh has received a total of Rs 8.82 crore, with the money going toward, among other things, human resources, skill development, sports, healthcare, and education.
'The assistance provided in terms of community development projects include the construction, upgrade, and provisioning of equipment for community halls, water supply schemes, generators, solar lighting, arboriculture, the establishment of bore wells, construction and repairs of roads and tracks, and the construction of toilets. Sports is also being provided impetus by providing equipment, sports kits and organising various sports events. A total of 74 projects have been allotted towards community development in remote areas in the current financial year,' the Army said in a statement.
In the fiscal year 2022–2023, 17 infrastructure projects, including the creation of a computer lab, the building of the Captain Manoj Pandey Stadium/Sports Complex, the construction of community halls, and the renovation of Rinchen Auditorium, have been allocated and planned in all districts of the UT of Ladakh.
In addition, initiatives like computer centres, centres for women's empowerment, and vocational training facilities are empowering women in remote areas of Ladakh.
'In addition, training classes for women are also being organised for various activities such as Pashmina shawl weaving, wool knitting, the extraction of apricot oil, and yak cheese making and yak cheese baking.'
Additionally, a programme called 'Kargil Ignited Minds' was started just for Kargil's female students to help them prepare for the various competitive exams required for admission to different professional colleges and institutions in India.
Operation Sadbhavana has accomplished a number of goals, including national integration tours, women's empowerment, employment creation, education, and development initiatives focused on nation-building.