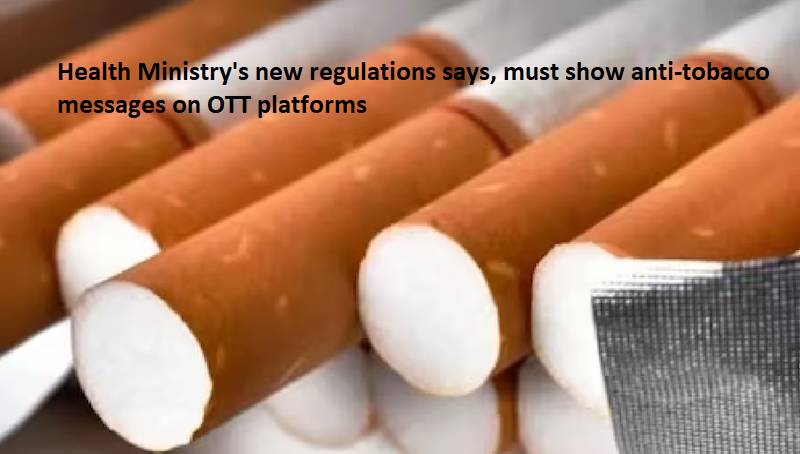 On Wednesday, the Union Health Ministry made anti-tobacco warnings mandatory for OTT platforms. New guidelines for anti-tobacco warnings for publishers were outlined in the ministry's announcement, and publishers who disobey the guidelines risk harsh repercussions.
OTT platforms must now carry anti-tobacco warnings and disclaimers that like those that appear in theatrically screened films and on television.
When tobacco products or their usage are shown during the programme, the OTT platform will also be compelled to post an anti-tobacco health warning as a large static message at the bottom of the screen, according to PTI, who broke the story while the government was deliberating.
The revised guidelines requiring a disclaimer may assist combat the vice in light of the rising popularity of OTT platforms, which are vital in affecting the mind, particularly that of a minor.
It is generally recognised that tobacco smoking causes both morbidity and mortality. To discourage tobacco usage by banning all direct and indirect cigarette advertising, the government passed the Cigarettes and Other Tobacco Products (Prohibition of Advertisement and Regulation of Trade and Commerce, Production, Supply and Distribution) Rules, 2004, according to a government official who spoke to PTI.
By putting the OTT law into effect, India will rise to the top of the world cigarette regulation rankings, they added.
The ministries of health, communication and broadcasting, and electronics and information technology must publish notices when new regulations are broken, providing them a reasonable window of time to respond, explain their failures, and make the necessary changes to the content.
According to the new regulations, 'online curated content' refers to any curated collection of audio-visual content that is owned by, licenced to, or contracted to be transmitted by a publisher of online curated content and made available on demand over the internet or computer networks, with the exception of news and current affairs.
Films, audio-visual programming, documentaries, TV shows, serials, series, podcasts, and other similar content are included.