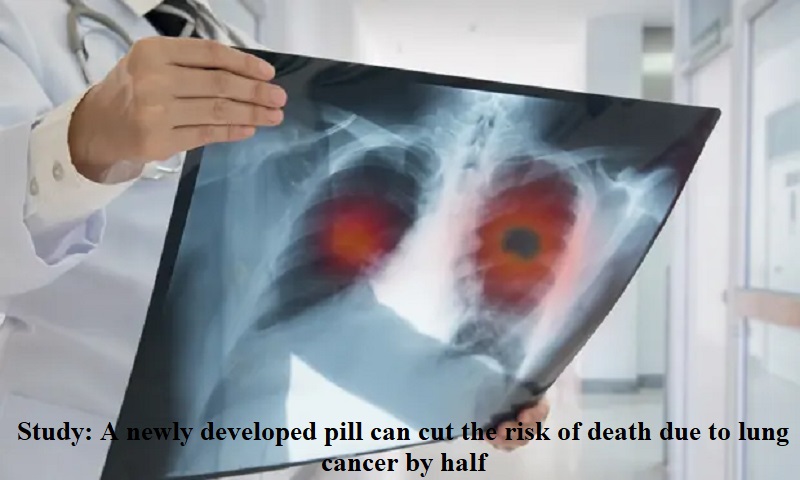 A groundbreaking global study conducted over a decade has yielded "exciting" and "unprecedented" results, revealing that a once-daily pill can reduce the risk of death from lung cancer by 50 percent.
The drug known as "osimertinib" taken after surgery has been shown to significantly decrease the likelihood of patients dying by 51 percent, according to findings presented at the world's largest cancer conference.
Lung cancer is the leading cause of cancer-related deaths worldwide, accounting for approximately 1.8 million fatalities each year. The results were obtained from a late-stage study led by Yale University and were presented at the annual meeting of the American Society of Clinical Oncology (ASCO) in Chicago.
Dr. Roy Herbst, the deputy director of the Yale Cancer Center and lead author of the study, remarked, "Thirty years ago, there was nothing we could do for these patients. Now we have this potent drug. Fifty percent is a significant achievement in any disease, but particularly in a disease like lung cancer, which has historically been highly resistant to therapies."
The Adaura trial enrolled patients aged between 30 and 86 from 26 different countries. The trial sought to determine if the pill was beneficial for patients with non-small cell lung cancer, the most prevalent form of the disease.
Dr. Herbst described the results as "exciting" and highlighted previous findings from the same trial, which demonstrated that the pill also reduces the risk of cancer recurrence by 50 percent.
Herbst, who also serves as an assistant dean for translational research at Yale School of Medicine, asserted that the pill will have a "practice-changing" impact and should become the "standard of care" for at least a quarter of lung cancer patients worldwide who have the EGFR mutation.
The drug is already available to some patients in the UK, US, and other countries, but it is crucial for more individuals to benefit from it.
"Not all lung cancer patients are tested for the EGFR mutation, and this needs to change. This further emphasizes the importance of identifying these patients through available biomarkers at the time of diagnosis and prior to treatment initiation," Herbst stated based on the study's findings.
The study declared, "Adjuvant osimertinib demonstrated an unprecedented, highly statistically significant, and clinically meaningful overall survival benefit in patients."
Dr. Nathan Pennell, an ASCO expert who was not involved in the study, expressed, "It is difficult to convey how significant this finding is and how long it took to get here. This unequivocally demonstrates a highly significant improvement in survival."