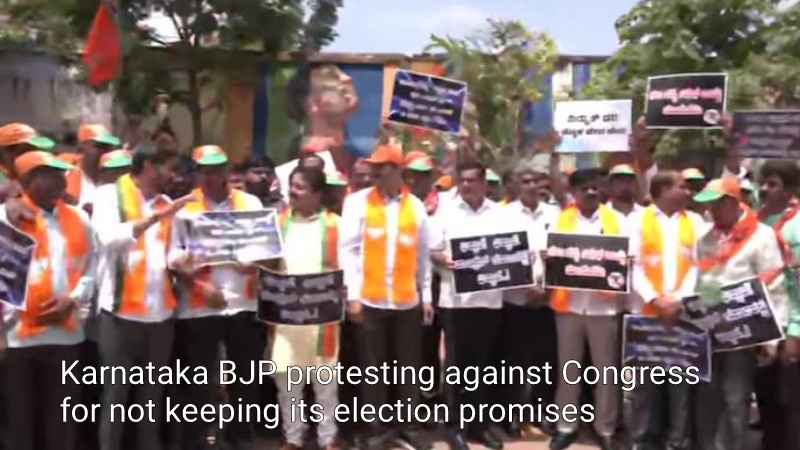 Tuesday, the BJP chapter in Karnataka protested the incumbent Congress for allegedly delaying the fulfilment of five election pledges made by both DK Shivakumar and Siddaramaiah in the run-up to the assembly elections that were held on May 10.
As a response to minister K Venkatesh's remarks that sparked a debate over the anti-cow slaughter law, BJP members also staged a sit-in protest in Bengaluru. Siddaramaiah, the chief minister, responded by branding the BJP as a party that is hostile to the people.
Siddaramaiah criticised the BJP's protests and claimed that they had broken their promises, calling into question their moral right to protest.
'They don't have anything to do, what moral right do they have to protest? They promised to give them 10 hours of electricity. They failed to do that. They promised to waive farmers' loans once they came to power, but couldn't do that. They promised to spend one-and-half lakh crores on irrigation, but they didn't do it. What moral rights do they have?' Siddaramaiah questioned.
'They shouldn't deliver on their promises, even when we do that they find fault with it. It is an anti-people party. When they were in power, they looted the country and took bribes,' he added.
The 'Gruha Jyoti' scheme, which promises to provide domestic consumers with up to 200 units of electricity free of charge, will go into effect on July 1 as a result of an order the Karnataka government issued. For those consuming over 200 units, the power tariff will be hiked.
According to the government order, businesses cannot use the programme. In addition to introducing 'Gruha Jyoti,' the government also gave instructions to implement the 'Shakti' free bus travel for women programme beginning on June 11.
For users of more than 200 units of electricity, the power rates have increased.