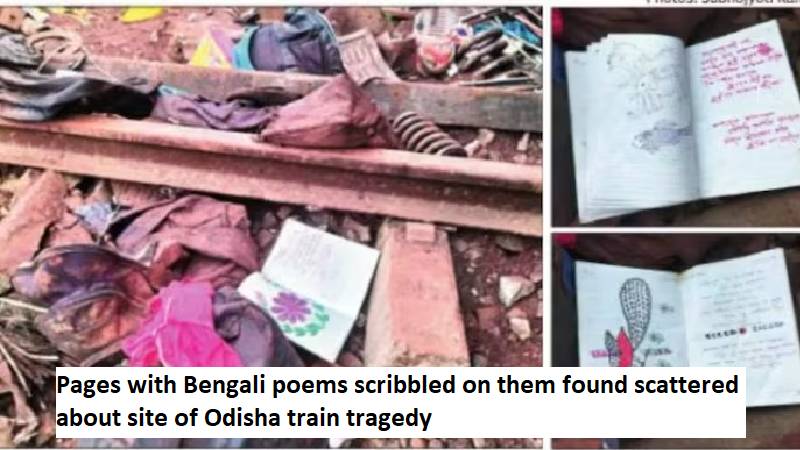 'Bhalobeshei toke chai sarakhhon, achis tui moner sathe' (With love, I long for you all the time, you are with me in my mind all the time…) recite a line from a partially finished Bengali poem that was found on a piece of paper in one of the coaches of the Coromandel Express that had been damaged in the Balasore district of Odisha. At the scene, there were additional pages with poems about love written on them.
On June 2, when the Shalimar-Chennai Central Coromandel Express, travelling in the direction of Chennai, collided with a stopped goods train on the adjacent track, it resulted in one of the worst rail accidents in the nation, resulting in 278 fatalities and over 1,100 injuries. As a result, the Coromandel Express's back carriages veered into the third track. The final two coaches of the Bengaluru-Howrah Express, which was travelling by at the same time, were knocked down by a few coaches of the Coromandel Express.
Rescuers searching among the baggage of the passengers aboard the tragic train found scattered sheets of paper with love poetry written in Bengali as they were working at the crash site near Bahanga Bazar station in Balasore.
On the reverse side of a poem found in the diary among blood-stained clothing and things thrown on the tracks were drawings of elephants, fish, and the sun.
In a handwritten poem, the lines say, 'Alpo alpo megh theke halka bristi hoy, chotto chotto golpo theke bhalobasa sristi hoy' (Light clouds lead to mild rains, (while) love blossoms from little tales). The poetry gave readers a peek inside the passenger's mind, who is still unknown at this time.
The unidentified traveller aboard the Coromandel Express most likely wrote these poems in his free time. Social media is rife with images of these pages. The poems have not been claimed, and no one with a family link to the author has yet to be seen, according to the police.