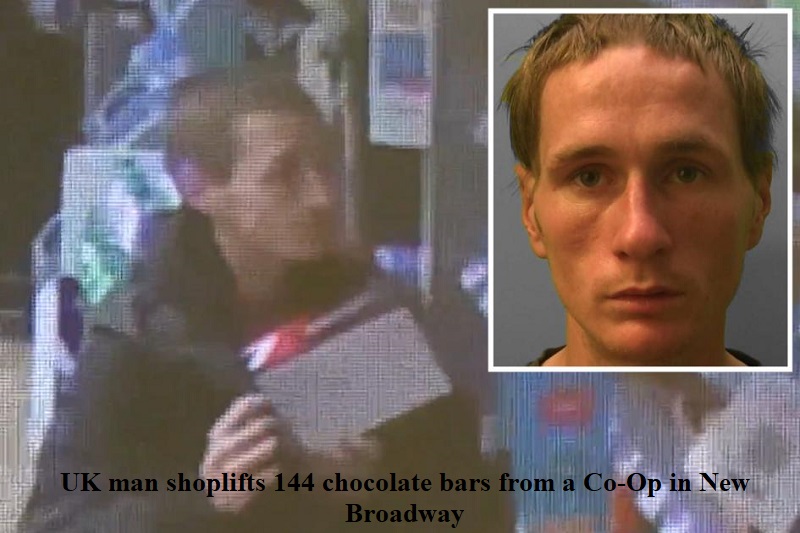 Jordan Thomson, aged 30, was captured on video stealing various confectionery items from a Co-Op store in Worthing, just days after being released from jail for similar crimes. Sussex police reported that he took 48 Twix bars, 48 Snickers bars, 24 Bounty bars, and 24 Yorkie bars. In the following weeks, Thomson was also observed stealing eleven coffee jars, five packs of laundry detergent, two bottles of vodka, and a significant amount of meat from different establishments in Worthing.
Store staff recognized Thomson as a repeat offender and promptly alerted the police, providing CCTV footage as evidence. The thefts occurred at other stores as well, including Savers on Montague Street, Tesco on Dominion Road, and Co-Op on Ham Road in Shoreham.
Thomson, who has no known address, was apprehended and charged with stealing six items valued at a total of £357.40 ($444.13 USD). He pleaded guilty to all charges and was sentenced to 22 weeks in prison on May 22 at Crawley Magistrates' Court. Additionally, he was ordered to pay £239 ($297 USD) in costs.
Police Sergeant Sam Milsom of the Response Investigations Team expressed satisfaction with the swift actions taken by officers and the Business Crime Team, enabling the case to be presented to the Crown Prosecution Service efficiently. This resulted in charges being brought against a prolific offender and prevented further losses to businesses in Adur and Worthing. Sgt. Milsom hopes that Thomson will learn from his past mistakes and receive the necessary support to cease his criminal activities, which cause significant harm to the local business community.
In a separate incident, a British woman named Sarah Baxter fell victim to a car theft using a method known as "relay theft." As Baxter tended to her two-week-old infant at her Henley residence, thieves used a metal hoop to pick up and amplify the signal from her keyless entry car fob, allowing them to gain access to her Mercedes. Modern vehicles with keyless entry systems rely on a fob to detect and unlock the car, rather than a physical key. Baxter became aware of the thieves' modus operandi after reviewing footage from her doorbell CCTV camera, which captured a man approaching her house.