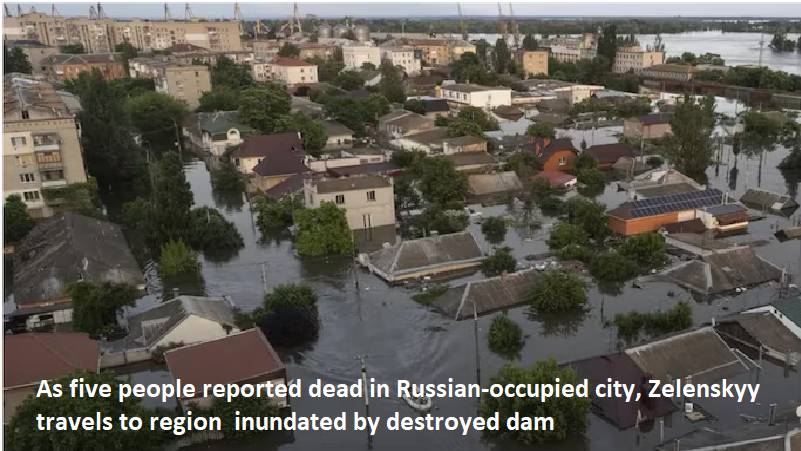 The first official report of deaths from one of the worst environmental crises since Russia invaded Ukraine more than 15 months ago, the mayor of a Russian-occupied city next to a breached dam said Thursday that five residents there died in massive flooding brought on by the disaster.
The mayor of Nova Kakhovka, Vladimir Leontyev, who was selected by Russia, informed Russian state television that two further persons who had gone missing after the dam burst on Tuesday had been located, and that plans were being made to evacuate them.
The Dnieper river, which has become a part of the front line between the fighters, has seen at least 4,000 people evacuated from both the Russian and Ukrainian-controlled sides of the river, according to officials.
Volodymyr Zelenskyy, the president of Ukraine, arrived on the western bank, which is under Ukrainian authority, on Thursday to assess how the damage from the dam failure is being addressed. On his Telegram account, he stated that he was assisting in evaluating attempts to evacuate civilians, give them access to water, and other forms of support, as well as try to stop significant environmental damage.
Zelenskyy also mentioned the possibility of providing financial support to people and businesses forced to leave their homes and places of business due to rising seas.
Oleksandr Prokudin, the regional governor, reported that the average flooding level in the area on Thursday morning was more than 5.6 metres (18 feet), and that almost 600 square kilometres (231 square miles) of the area were under water, more than two-thirds of which were on the eastern bank under Russian authority.
In a region hit by the disaster that was home to more than 60,000 people, the full extent of the disaster is still unclear. The Kherson area, which Moscow illegally seized in September and portions of which Russian military have been occupying for the past year, include the dam and related reservoir that are crucial for providing fresh water and irrigation for southern Ukraine.
Additionally essential for water supplies to the Crimean Peninsula, which Russia illegally acquired in 2014, is the reservoir.