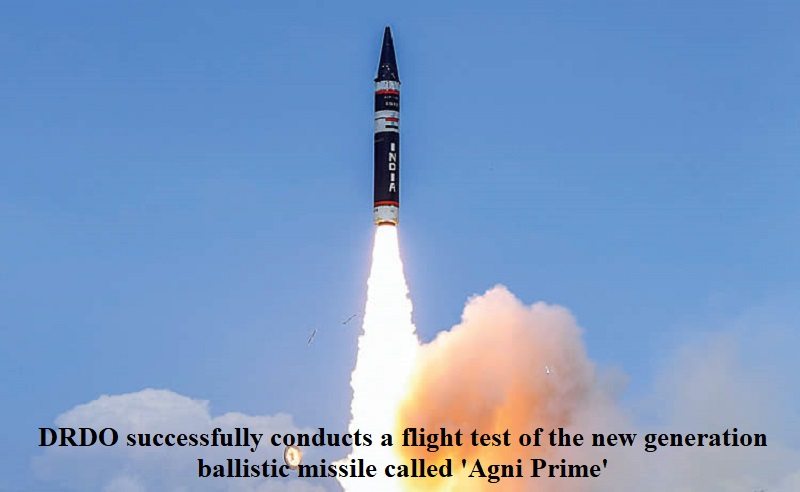 India's Defence Research and Development Organisation (DRDO) achieved a significant milestone on June 7, 2023, by successfully conducting a flight test of the new generation ballistic missile named 'Agni Prime'. The test, which took place at Dr APJ Abdul Kalam Island off the coast of Odisha, met all its objectives.
This particular launch was noteworthy as it marked the first night launch conducted by the users before the missile's induction. It followed three previously successful developmental trials of the missile, confirming its accuracy and reliability.
To gather comprehensive flight data throughout the missile's trajectory, various range instrumentation systems, including radar, telemetry, and electro-optical tracking systems, were strategically positioned at different locations. Two ships were stationed down-range to facilitate data collection.
Senior officials from DRDO and the Strategic Forces Command were present to witness the successful flight test, which paves the way for the missile's integration into the Armed Forces.
Rajnath Singh, the Minister of Defence, congratulated DRDO and the Armed Forces for the flawless performance of Agni Prime, the new generation ballistic missile.
Dr Samir V. Kamat, the Secretary of the Department of Defence R&D and Chairman of DRDO, commended the efforts of the teams from DRDO laboratories and the users involved in the test launch.
Agni Prime, developed by DRDO, is a two-stage ballistic missile that utilizes solid propellant and is stored in a canister. It features a redundant navigation and guidance system. This advanced version follows the operational Agni-I and Agni-II missiles used by the Strategic Forces Command.
The Agni Prime missile incorporates significant upgrades, including an improved composite motor casing, a manoeuvrable reentry vehicle (MaRV), and enhanced propellants, navigation, and guidance systems. With the inclusion of a MaRV, the missile gains the ability to deliver warheads to two distinct targets.
While its range does not cover all regions of mainland China, experts suggest that the primary objective of the Agni Prime missile is to counter the Armed Forces of Pakistan. However, if strategically launched from an appropriate location, it could potentially target the western, central, and southern regions of China.
In its second flight test on December 18, 2021, the missile demonstrated reliable performance and the successful operation of advanced technologies integrated into the system.
Throughout the recent test, telemetry, radar, electro-optical stations, and ships stationed along the eastern coast diligently tracked and monitored the missile's trajectory and parameters. The missile precisely followed its intended trajectory, achieving all mission objectives with exceptional accuracy, adhering to predefined parameters.