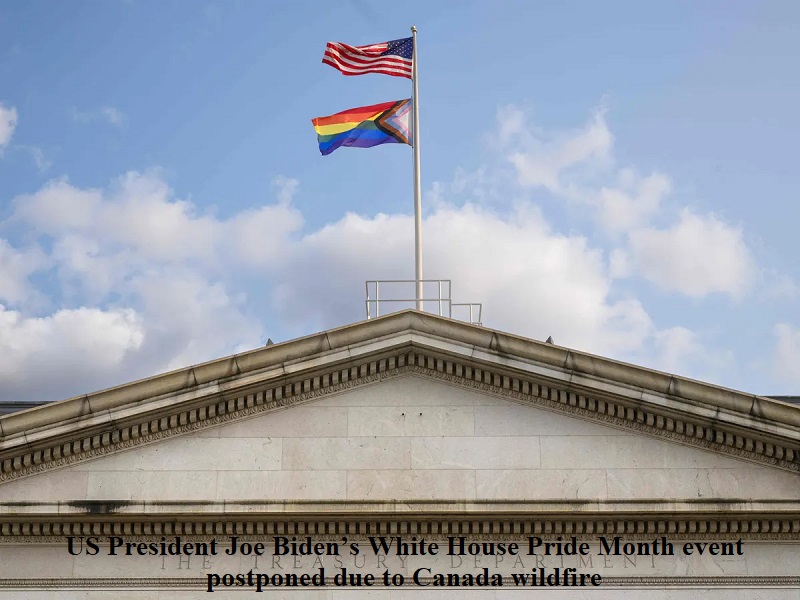 The White House Pride Month event, anticipated to be the largest in US history, has been postponed from Thursday to Saturday due to poor air quality caused by smoke from wildfires in neighboring Canada. The event was expected to include announcements of measures to support the LGBTQ+ community by President Joe Biden.
The White House stated that the event on the South Lawn would be postponed based on projected air quality in the region. Thousands of guests, including LGBTQ+ families, were expected to attend, and the event would feature performances by Betty Who and Baltimore DJ Queen HD.
The Biden administration has expressed that this event serves as a deliberate contrast to Republicans and others who have targeted LGBTQ+ individuals. Domestic policy adviser Neera Tanden highlighted a concerning increase in violent threats against LGBTQ+ community organizations, stating that discrimination against LGBTQ Americans is prevalent in many parts of the country.
Karine Jean-Pierre, the first openly gay White House press secretary, emphasized that President Biden, Vice President Kamala Harris, and their spouses are strong supporters of the LGBTQ+ community. Jean-Pierre stressed that the president stands with the community and will continue to fight for their rights.
President Biden's views on the LGBTQ+ community have evolved over the years, and his support for same-sex marriage as vice president in 2012 was seen as a turning point. He signed the Respect for Marriage Act into law in 2022, which federally recognizes same-sex marriage.
The upcoming proposals from the Biden administration aim to counter bills proposed by Republican-led states that target transgender youth, ban books, and restrict discussions of gender or sexuality in schools. The administration plans to appoint a coordinator in the Department of Education Office of Civil Rights to address book bans, expand collaboration with law enforcement to protect the LGBTQ+ community, and issue a new advisory for mental health care providers supporting transgender kids.
In response to the alarming increase in anti-LGBTQ legislation, the Human Rights Campaign declared a national state of emergency for LGBTQ+ individuals and released a guidebook outlining discriminatory laws in various states. The organization reported that over 70 anti-LGBTQ bills were passed in statehouses, nearly double the previous year, with approximately 220 bills affecting transgender people. The campaign's president, Kelley Robinson, described the situation as a crisis requiring a concerted response.