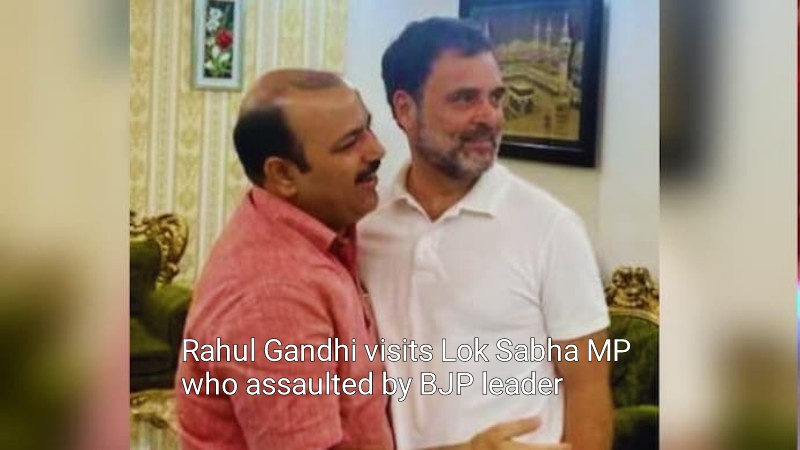 In the midst of the controversy over BJP MP Ramesh Bidhuri's offensive comments about BSP politician Danish Ali in the Lok Sabha, Congress leader Rahul Gandhi paid a visit to Danish Ali at his apartment in Delhi on Friday.
Speaking to the media after meeting Danish Ali, Rahul Gandhi stated, 'Nafrat ke Bazaar mein Mohabbat ki Dukan (opening a shop of love in the market of hate).'
Rahul Gandhi was accompanied by KC Venugopal, the general secretary of the Congress, and Imran Pratapgarhi, an MP.
A moved Danish Ali expressed his feeling of 'not being alone' after the visit. 'Rahul Gandhi came here to boost my morale. He said do not take it to heart and take care of your health. I felt relieved that I was not alone,' he said.
The BSP MP went on to say that it was an assault on 'democracy and the Constitution.' 'It is regrettable that the shops of hatred set up on the streets are now being set up in the new Parliament during Amritkal. Lok Sabha is our protector,' he said.
Sharing pictures of Rahul Gandhi's visit on X, Congress said, 'This shameful and petty action of Ramesh Bidhuri is a stain on the dignity of the House.' It added that the party is strongly against 'such a mentality of hatred and hatred in the temple of democracy.'
During a debate about the Chandrayaan-3 mission in the Lok Sabha, BJP MP Ramesh Bidhuri made offensive comments about Danish Ali. His remarks caused a great deal of controversy, and they have been removed.
Bidhuri was given a show-cause notice by the BJP on Friday as a result of his comments towards Danish Ali.
Adhir Ranjan Chowdhury, a leader for the Congress, wrote to Lok Sabha Speaker Om Birla to ask him to take strict legal action against Bidhuri.
The Congress is a member of the massive INDIA Opposition coalition. Mayawati's Bahujan Samaj Party has decided not to join the coalition.