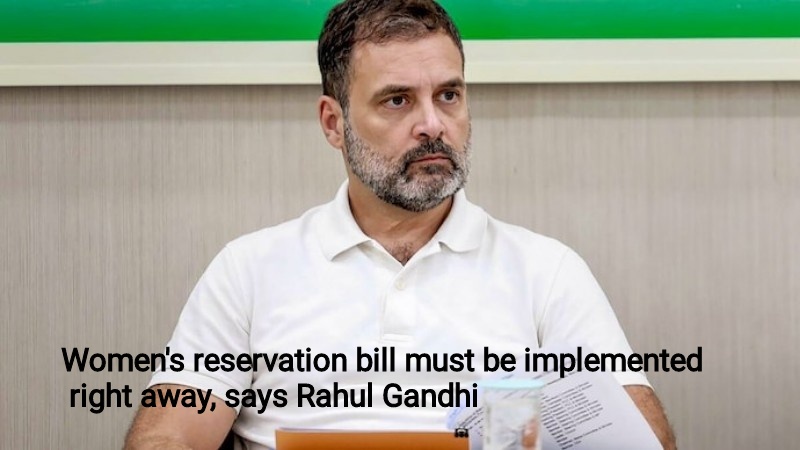 Rahul Gandhi, the head of the Congress, asked on Friday that the women's quota bill be put into effect right away and expressed "100% regret" that OBC reservation was not included in the proposed legislation under the UPA administration.
In addition, he urged that the government carry out a caste census and release its findings as well as those of the previous caste census carried out under the United Progressive Alliance (UPA) administration.
Noting that the government's motivation for introducing the measure was political, he claimed that because it has been connected to the population census and delimitation process, it won't be put into effect for at least the next ten years.
He said that the law was intended to draw attention away from the mounting call for a caste census.
A day after Parliament adopted the legislation to reserve a third of seats in the Lok Sabha and state assemblies for women, he asserted at a news conference at the party headquarters that "the truth is that this bill will be implemented in 10 years from now, if it is implemented at all."
Gandhi stated that even though he supported the measure, he wanted more reservation for women from lower-class backgrounds and other groups in accordance with their demographic ratios.
Gandhi responded, 'There is 100% regret,' when asked if the former UPA administration should have included an OBC quota in the women's reservation bill that the Rajya Sabha approved in 2010. We shall complete this now, as we ought to have done back then.
The women's reservation law is a fine idea, but it has two 'footnotes' related to census and delimitation that will delay the allocation of this reservation to women for many years, according to him.
Delimitation and the census, according to the Congress, were 'poor excuses' for delaying the bill's implementation, and the entire process was intended to turn it into an electoral issue rather than really enacting it.
The law was also referred to as a 'teasing illusion' by the opposition party.
Gandhi said, 'The BJP came up with the idea of a special session. We appreciated that idea. With a lot of fanfare and pomp we moved from the old building to the new building. The prime minister in a very dramatic gesture carried the Constitution of India from the old building to the new building and he said that he is passing a very important law and we agree with him.'
'Women's reservation is a central step in the empowerment of women in India and it is a critical step. But, when we read the fineprint, we found something very interesting. Two little sub-texts were there – this will be done after delimitation and that this will be done after Census. What it means is that this bill will be implemented a decade from now,' he said.