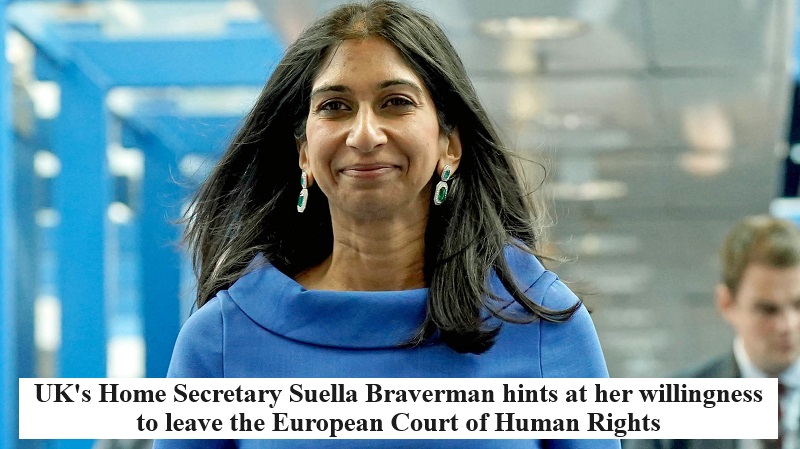 United Kingdom's Home Secretary, Suella Braverman, implied her openness to leaving the European Court of Human Rights (ECHR) as she issued a warning that the treaties governing the treatment of migrants are inadequate "in an age of jet travel and smartphones."
Braverman made this statement prior to her planned visit to the US, where she intends to discuss the challenges posed by global migration, including the issue of small boats crossing the Channel.
She emphasized that illegal migration and the large-scale movement of people worldwide are exerting unsustainable pressures on the US, the UK, and Europe. She expressed the need to reevaluate whether international conventions and legal frameworks, which were designed over 50 years ago, are suitable for the contemporary era of rapid travel and digital communication. Braverman stated, "I'm going to Washington to discuss this crisis with our American counterparts. If we fail to meet these challenges, then our political institutions risk losing their democratic legitimacy."
This stance may cause concern among members of the Tory party's liberal wing, who have advocated for remaining within the ECHR. Leaving the ECHR could potentially lead to the Tories being labeled the "nasty party" once again.
Previously, Braverman expressed her determination to do "whatever it takes" to transfer asylum seekers to Rwanda, a plan that has faced legal challenges.
Her trip to the US and the speech she delivered are seen as indications of her positioning herself as a potential leadership candidate within the Tory party.
Enver Solomon, Chief Executive of the Refugee Council, criticized the attacks on the ECHR, highlighting that they contradict Britain's historic support for such treaties. He emphasized the UK's commitment to providing sanctuary to those fleeing persecution and conflict and urged the nation to uphold its values of compassion, empathy, and solidarity. Solomon stressed the importance of maintaining commitment to refugees and international frameworks designed to protect them. Instead of threatening to abandon these frameworks, he suggested addressing issues in the asylum system, such as backlog reduction and providing safe pathways for those seeking protection, including refugee visas, resettlement, and family reunion programs.