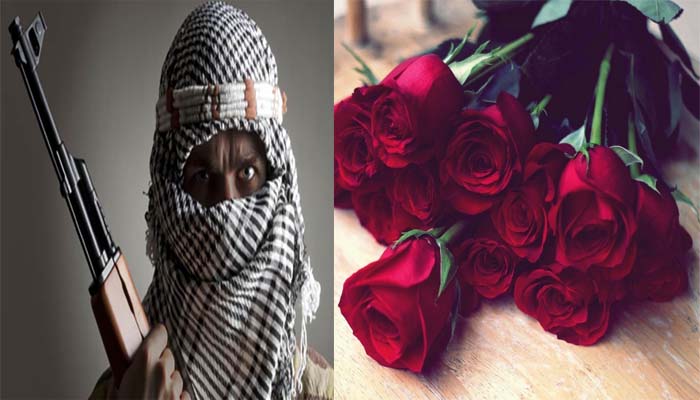 Lashkar member Abu Dujana was just one of many terrorists in Jammu & Kashmir who doesn't hesitate to take a break from the violence to indulge in love affairs or force themselves on their victims.
The objects of affection or lust may not always be women, with there being a recorded case of a Hizbul Mujahideen militant from Trial being in a relationship with another man.
Another terrorist from Anantnag, Aadil Ahmed Reshi, killed on January 15 this year, was involved with a married woman from Srinagar.
The identities of the 'lovers' are being withheld. A look at the files of militants, both active and killed in the recent past, provides insight into how they lower their guard in between their kills to romance or claim partners in the residential areas of Kashmir.
The case histories show as many as 14 terrorists from diverse groups like Lashkar-e-Taiba, Jaish-e-Mohammad and Hizbul Mujahideen to be involved in "womanising".
Of these, eight were killed between December 26, 2015, and August 5, 2017, while one was arrested upon surrender.
As many as five are active terrorists. One on the radar is Sayar Wani, a Hizbul Mujahideen militant in Kulgam who allegedly uses the houses of "girlfriends" as hideouts, and forces himself on others at gunpoint. He currently has a reportedly steady relationship with a girl from Yaripora.
A militant from Tral, Mohammad Ishaq, wanted by the police since December 2015 for threatening sarpanchs and panchs, is believed to be in a same-sex relationship.
Of course, the liaisons come with serious security risks. The movements of terrorists are compromised due to frequent visits to their lovers, not to talk of bitter ex-girl friends turning informers.
Umar Majeed Ganai, linked to Hizbul, killed five policemen and two civilians when he attacked a cash van in April. There is a Rs 10 lakh reward for information on his whereabouts. But this has not deterred him from having an affair with a girl from Kulgam.